Uttaarakhand: Unable To Pay For Son's Hemophilia Treatment, Man Kills Son; Arrested.
February 17, 2022

Shaban Taariq was a 3-year-old born with haemophilia who lived in Uttarakhand's Udham Singh Nagar district in India. Unfortunately the boy's life was cut short after his father, 30-year-old Mohd Tarriq, allegedly fell on hard times and couldn't pay for his son's care then strangled him to death.
After Shaban's death, Mohd disposed of the body and filed a missing person's report with the local police. The boy's body was later discovered in bushes by a canal in the neighboring district of Bareilly. After the police collected CCTV footage from the neighborhood the father was arrested for the murder, which he later admitted to doing.
Police official Mamta Vohra was quoted as saying, "the man owns a truck and drives it. However, for some time, he wasn't getting any work and was not able to pay the EMI of the vehicle. His son Shaban, the youngest of the two, was suffering from heamophilia since birth, which increased the financial burden on him. On Tuesday night, the man informed Pulbatta police station that his son, who he left outside his home, had gone missing. We registered a missing report and started investigating. During questioning, the man kept changing his statements. When questioned, his wife informed us that Taariq was the last known person to be seen with Shaban."
Meanwhile individuals in Bahedi, an area of Bareilly, discovered the body which was later identified to be Shaban. Vohra continued on to say, "Based on CCTV footage, which showed Taariq going with Shaban and returning without him, we questioned him again. Taariq then confessed to the crime.
To learn more about the case, please feel free to read the original article written by Aleesha Sam on HW English's website by following the link provided here.
Shaban's death was an unnecessary loss. There are various co-pay assistance programs available for nearly every hemophilia drug on the market. The World Federation of Hemophilia would be more than happy to help get you or your loved ones find any assistance you may need. Feel free to reach out to them by phone: (514) 875-7944, email: wfh@wfh.org, or visiting their website: https://wfh.org/
Medications Sent via Mail-Order Often Exposed to Unsafe Temperatures Risking Patient Safety
January 5, 2021

A recent independent study was performed by Karlee Paloukos - a fourth year PharmD student out of the University of Utah, College of Pharmacy - to find out if mail-order medications should be placed under more strict regulations; so they can be safely delivered and received within appropriate temperature ranges throughout the year.
She originally came up with the idea when a pharmacy she worked for in Utah had mailed a customer's prescription to them in the middle of July, where the weather can reach over 100 degrees Fahrenheit. The family in question happened to be away from home for over a week at a family outing, which meant the medication was left sitting in their mailbox. Sure enough after some inquiring with the drug's manufacturer they were told the medication most likely reached an unsafe temperature, is no longer usable, and therefore should be discarded.
To make matters worse, the customer would have to pay for the drug again out of pocket if they wished to get another order of the drug shipped to them because "it wasn't the mail-order pharmacies concern once the prescription leaves the facility" said Karlee.
When conducting the study, Karlee and her team shipped a total of 4 unrefrigerated bubble lined mailers with temperature trackers to 6 different destinations across the United States. The mailings were completed during both winter and summer months. Unfortunately, all of the drugs arrived outside of the recommended manufacturers temperature ranges regardless of the time of year. Several factors they thought would have played a part in the study like distance traveled and time spent on the road actually proved to not make any significant impact during the study.
She recommends all mail-order customers ask their pharmacist about the potential risks associated with getting their medications shipped to them, and to inquire about their states' regulation on the ability to potentially opt-out of mail order delivery. Lastly, ask the pharmacist how they monitor the temperature of the product when it's being sent out from the pharmacy to ensure efficacy.
To learn more about the potential issues associated with out of range mail-order medications, please feel free to listen to the original article read by Karlee Paloukos on Pharmacy Learning Network's website by following the link provided here.
Drug-Delivery Technology Leads to Sustained HIV Antibody Production in NIH Study
March 9, 2020

Researchers in a National Institutes of Health clinical trial have created a new way to direct the body to fight against HIV by using a specific antibody. For more than a year participants in the trial have been able to sustain production of said antibody within their bodies. This drug-delivery system utilizes a harmless virus (adeno-associated virus serotype 8 (AAV8)) to transport a special antibody gene (VRC07) into the cells. This in turn induces a response from the immune system and allows the individuals body to replicate and self-generate it over time to fight the disease.
VRC07 is an anti-HIV monoclonal antibody, originally isolated from the blood of a person with HIV. This antibody is what's known as a broadly neutralizing antibody (bNAb); this means it can prevent a wide range of HIV strains from infecting cells in the lab.
Joseph P. Casazza, M.D., Ph.D., is the principal investigator of the VRC 603 study, which was conducted at the NIH Clinical Center in Bethesda, Maryland. He described giving only a single dose from one of three different strengths by intramuscular injection to each of the individuals in the study, while also continuing their daily antiretroviral therapy. Even after several years a majority of the participants are still experiencing VRC07 levels higher than they had been at the four to six-week period.
"To the best of our knowledge, this marks the first time that an AAV-based technology which delivered an antibody gene has resulted in safe and sustained levels of that antibody in blood. We hope that further development of this technology will yield a drug-delivery strategy applicable to a broad range of infectious diseases," said NIAID VRC Director John Mascola, M.D.
To learn more about their findings please feel free to read the original article written by Hillary Hoffman on the National Institute of Allergy and Infectious Disease website by following the link provided here.
Expanding the Treatment Landscape for Patients with Hemophilia A
November 26, 2019
(Original Article Date: Oct 16, 2019)
In the past, individuals with hemophilia A were subjected to treatments revolving around replacing their missing factor VIII (FVIII) protein with a working FVIII. This started in the 1800's with blood transfusions, which evolved into plasma-derived concentrates, and eventually led to the development of recombinant factors. These recombinant factors have been the cornerstone of hemophilia A treatment for nearly 20 years. There is no doubt these latest treatment options have drastically reduced the risk of patients with hemophilia becoming inadvertently infected with blood-borne pathogens, such as HIV and hepatitis. Although, recombinant replacement therapy can be too cumbersome for some patients who have to plan their activities around their infusions.
An upcoming symposium in Orlando will be discussing how emerging therapies have made great improvements in reducing the treatment burden for individuals living with hemophilia A, but also recognize there is still room for improvement. Several of the topics being discussed in the linked article relating to the symposium are the limitations of FVIII replacement therapies, how to improve them, and the possible benefits of upcoming gene therapy treatments.
If you would like to learn more please use the link provided here to view a PDF of the full article written by Guy. A Young taken from the Clinical Care Options website. Link to official website article provided in PDF
Muscle Rehabilitation Exercises Safe, Effective for People with Severe Hemophilia, Study Suggests
October 9, 2019

Physiotherapy has been recommended for people living with hemophilia for many years, however no studies have ever explored which types of muscle rehabilitation exercises (specifically ones targeting the lower limbs, or legs) might be safe and/or beneficial for patients with severe hemophilia and joint disease.
University of Valencia researchers, and their collaborators, made a point to study the safety implications and potential effectiveness of prescribing leg muscle rehabilitation exercises to patients living with severe Hemophilia. The team evaluated the exercises based on patients using external resistance (using elastic bands or conventional workout machines) and non-external resistance (or unaided muscle contractions).
During the exercises investigators evaluated the electrical activity of several key leg muscles with a process called surface electromyography (EMG), while they were performing the various exercises. It should be noted, each of the 11 patients being monitored had been receiving prophylactic treatment to decrease the chances of spontaneous bleeding during the study.
After the tests were completed, the researchers had the following to say:
"Elastic bands and machines are safe, feasible, and efficient for people who have severe hemophilia and are undergoing prophylactic treatment, providing comparable muscle activity levels during knee extension and ankle plantar flexion exercises performed at moderate intensity. Because elastic bands are portable and tolerated slightly better than the machines, they can be considered the better alternative for supervised rehabilitation programs and the first choice for home-based training in people who have severe hemophilia and are receiving prophylactic treatment."
To learn more please feel free to read the original article written by Joana Carvalho on Hemophilia News Today's website following the link provided here. Or see the original published study from the journal Physical Therapy here
NHF, HFA Seek Additional Explanations From Bayer on Mislabeled Kogenate Recall
August 7, 2019
Over the past month, Bayer released a statement exclaiming that a total of 986 distributed vials of Kogenate FS (now more specifically identified as lots #27118RK and #27119CG) had been mislabeled, and actually contained its Jivi product instead.
The National Hemophilia Foundation (NHF) and Hemophilia Federation of America (HFA) are now requesting Bayer clarify the risks, and the potential effects, of the recent recall to the hemophilia community.
So far to date, no safety issues related to the affected lots have been reported to Bayer. Even so, the company is conducting a thorough review of all adverse events described in new reports.
To learn more please feel free to read the original article written by Alice Melão on Hemophilia News Today's website following the link provided here.
Limited Access to Hemophilia Treatment and Expert Care in Developing Countries Reasons Joint Damage Seen, Study Reports
July 3, 2019
A recent study conducted in five developing countries including India, Algeria, Morocco, Oman, Egypt and South Africa showed insufficient access to treatment centers, lack of expert care, and high bleeding rates directly resulted in similar joint complications between hemophilia patients with and without inhibitors, and joint problems in 70% of the people that took part.
Getting the most out of care can be very helpful for hemophilia patients, especially those living in developing countries where resources are scarce and access to treatment may be nonexistent. Although, unlike in developed countries, large-scale studies aiming to improve disease management and outcomes are still limited.

To address the issue, the HAEMOcare study was conducted to specifically assess the link between hemophilia-related joint damage and inhibitors against clotting factors, treatment history, disease management, quality of life, and economic aspects.
To summarize the results, "inadequate access to Hemophilia Treatment Centers and expert care, as well as high bleeding rates, led to equivalent hemophilia-related orthopedic morbidity between hemophilia patients without and with inhibitors," the researchers concluded.
To learn more about their findings please feel free to read the original article written by Jose Marques Lopes on Hemophilia News Today's website following the link provided here.
Hemlibra Hits The Market!
Written By: Chad Blair – U&I Pharmacy
October 27, 2017
Most people do not realize that Genentech is actually not a newcomer to the world of hemophilia. In 1984 Genentech developed a new hemophilia product that was safer than the products that had infected a majority of the Hemophilia community with HIV, Hep C, or both. You may not realize this, because they sold the licensing of this safer product to Cutter (whom we now know as Bayer). This was the first change that helped make the hemophilia community safer and in part brought about the cleaning up of the clotting factor products altogether.
Genentech is again setting the world of hemophilia on it's head in a very welcome way by getting approval of the first sub-cutaneous treatment for hemophilia (Hemlibra). Last week the FDA approved Hemlibra (also known as Emicizumab and called ACE 910 while in studies). The current approval is for Hemophilia A inhibitor patients only but it actually hit the market today with an unbelievably fast turn-around after approval. As if that breakthrough alone isn't enough to make this community stand up and take notice, it's also only a weekly sub-q shot, and it bypasses inhibitors altogether.
Subcutaneous shots mean lower chance of infection, no need for ports and less drama all around. Due to a couple adverse events during Hemlibra's clinical trials (occuring while high doses of products containing activated Factor IX were given in addition to the sub-q treatments) a warning is included on the box. However, MASAC has already released an interim guidance on the use of Hemlibra and how to treat break through bleeds if any occur in inhibitor patients.
There is a downfall to Hemlibra when compared to traditional factors though. Hemlibra can only be left unrefrigerated for one week (although you only need to refrigerate 4 small doses per month).
If you're saying "well, that's great for people with inhibitors", you are very right. Don't go feeling left out if you don't have inhibitors just yet though. While it is true that the FDA has approved Hemlibra only for people with inhibitors, Genentech has already completed phase 3 clinicals on adults with no history of inhibitors. This means an indication for the vast majority of people with Hemophilia A (those without inhibitors) may come in just a matter of months.
We would love to know what you think of this new line of technology. Are you excited? Are you wary? Do you have any questions that you would like to ask about Hemlibra?
Let us know by dropping us an email here.
The Inhibitors Debate Continues
September 5, 2017
By Chad Blair
To begin, lets review what inhibitors are and what studies have said in the past. So, what is an inhibitor? An inhibitor is an immune response to the factor protein molecule. An inhibitors patient's body releases antibodies that attack and remove the clotting factor from their system. You can see where this would be a problem for anyone hoping that those factor molecules will help them stop bleeding.
In recent history there has been a total of three (3) studies have looked at the likelihood of different factor products to cause an inhibitory response (or immunogenocity). These are:
#1: In January of 2013 a study that has become known as the RODIN study was published concluding that "Recombinant and plasma-derived factor VIII products conferred similar risks of inhibitor development, and the content of von Willebrand factor in the products and switching among products were not associated with the risk of inhibitor development." To rephrase that, they could find no evidense that indicated that recombinant factor products were more likely to cause inhibitors than plasma derived products or vice-versa.

The RODIN study was funded by the Baxter Corporation and the Bayer Corporation, who both, at the time both had recombinant products on the market. Baxter however does also have several plasma-derived products as well. Not that this indicates that the study was biased but it is something that should be kept in mind. (Parts of this study that were not comparing plasma-derived factor to recombinant factor were verified independently by the French government, which does lend some credibility to this study as a whole.)

#2: In May of 2016 a report on the SIPPET Study (Survey of Inhibitors in Plasma-Products Exposed Toddlers) was published in the New England Journal of Medicine. This report concluded that "patients treated with plasma-derived factor VIII containing von Willebrand factor had a lower incidence of inhibitors than those treated with recombinant factor VIII." In fact this study found an almost two fold increase in inhibitor rates amongst previously untreated patients using recombinant products.

When we read the fine print in the NEJM article, we learn that this study was funded in large part by grants from Grifols and Kedrion Biopharma who are amongst the largest producers of Plasma-Derived clotting factor products. Again, this is something that we should keep in mind when we are looking at these results.

#3: In May of 2017 the Pharmacovigilance Risk Assessment Committee (PRAC) of the European Medicines Agency (EMA) concluded "that there is no clear and consistent evidence of a difference in the incidence of inhibitor development between the two classes of factor VIII medicines: those derived from plasma and those made by recombinant DNA technology." PRAC recommends all products update their prescribing information to list "development of inhibitors as a very common side effect in previously untreated patients and as an uncommon side effect in previously treated patients."

In the report by PRAC, they explain that the examination of the studies and all available data was instigated by the obvious contradictions the SIPPET study showed to previous studies. When PRAC announced their findings a company who had been given authorization to use the SIPPIT study in their marketing requested a re-examination of their findings. On September 1, 2017 PRAC confirmed their earlier findings.
After contradicting the RODIN Study and being contradicted by the Pharmacovigilance Risk Assessment Committee it leave little room for the SIPPET Study to be taken as an unbiased scientific study. With the volume of marketing materials listing, quoting and even including reports on the SIPPET Study a casual observer would think that this was a landmark study whose results have been tested and confirmed repeatedly. Unfortunately to our knowledge, none of the results found by the SIPPET study have been repeated in any other studies.
The SIPPET Study does have their own marketing website which begs the question, how many other scientific studies actually build a marketing website instead of letting their data and science speak for itself.
Research on Gene Therapy for
Hemophilia A
(an Editorial by Chad Blair - April 5, 2017)
If you've been watching Google alerts or social media this past week, you almost certainly noticed a lot of hype regarding what sounds like a breakthrough in gene therapy for Factor VIII deficiency. The real news is they realized that gene therapy for Factor VIII might actually be possible. I do not mean to downplay the significance of these findings but realistically, gene therapy for Hemophilia A is not going to show up within the next month or even the next year.
What they did do in their research was look at vectors, promoters and enhancers and determine which of these showed the best results for inducing Factor VIII production in mice and also gauged the inhibitor responses. In the way of an analogy, we could liken this to you wanting to move across country and trying to find out the best way to do so.

In this scenario, you have a very large family (the gene sequence for Factor VIII production) so you've looked at a lot of different cars (the vector) and narrowed your choices down to the cars that can fit everyone you want to bring with you. You've also consulted the maps and narrowed your choices down to a few routes that have the shortest and easiest drives, also noting where you can get the gas you'll need and what brand of gas works best.
Now you have to choose and buy a car, pack everything and everyone up, pick a route and start driving. Hopefully you don't break down or have your car stolen somewhere along the way. That's why, before you even chance getting into that situation you're going to pack up some dogs in each model of car and send them along every route by remote control. You decide which of the route/car combinations did the best, then you send a couple of your semi-close friends across country just like you did the dogs that had the most survivors and fastest trip. If everything goes well with them, then you decide that you can go and encourage your close friends to go with you.

By this time you have bought many cars, a lot of gas, and spent a lot of time. Oh, and I forgot to mention that in this scenario, the cars are made from recycled cardboard and most of the roads are riddled with land mines while there's little army men called inhibitors running around and trying to stop you.
Basically, we now know that it's actually possible, and we're looking for a tank.

If you feel inclined to read the full saga of this trip, please read the full paper here.
Remembering a Legend and
Honoring Corey Dubin
By Chad Blair
February 3, 2017
As I write this, a Memorial is taking place 3000 miles away remembering this great man and legend. Know, while I am not there in person, I am in spirit. For those of you who knew Corey I will not be telling you anything you don't already know. I am not going to talk about Corey, the man, or discuss any of the individual great deeds he did. Those things are a matter of public record. The Corey I want to write about here is the Corey the legend. Something becomes legend when it becomes hard to believe and pushes the boundaries of what we think of as possible.
The best way I know to describe Corey Dubin would be to describe him as a force. Not different than how the Earth's gravity pulls on everything near by, holding us to the ground and the moon in orbit, Corey's force could be felt simply being near him. There were times that I swear I could see a zone form around him where the physical laws and reality we know, need not apply. No matter how bad things were, if you were in that zone around Corey, the possibilities were endless, there was always hope and you knew things were going to improve.
One did not stand in the way of Corey Dubin any more than you would stand in the way of a freight train. His confidence and unwillingness to accept what he felt was not right is something that you either loved or feared. He could be your biggest champion or the biggest thorn in your side. On occasion he could be both. Regardless of what side of Corey you saw, the love and devotion he had were unmistakable.
When anyone see's his list of accomplishments in journalism, radio, hemophilia, HIV, HCV, the Committee of Ten Thousand, government policy, and public health and safety they feel humbled. When they realize that list is overshadowed by the number of individuals Corey personally helped, encouraged and influenced, they see a legend. A legend we can all learn from and use as an inspiration for how we treat each other and how we should stand for what is right.
Below are a few of the countless links to other pages honoring Corey Dubin. Learn about the man and remember his legend.
Remembering Corey Dubin - Aids.gov
A Legend Leaves Us - LA KELLEY communications
PPTA Remembers Corey Dubin - PPTA
As of January 2017, Caremark Will No Longer Cover Helixate FS
(an Editorial by Chad Blair - October 9, 2016)
Starting January of 2017 Caremark has decided to drop Helixate FS from its formulary. This means that beginning in January 2017, if you have Caremark for your insurance carrier you will no longer be able to receive Helixate FS as your clotting factor product. While this is already known to be the case for CVS / Caremark insurance, it is still unknown how many other insurance companies may follow suit.
If you have insurance through one of the Affordable Care Act's marketplaces you should be able to review and change insurance carriers in November. If you use Helixate and do not wish to change products, make sure you review the insurer's formulary and go from there when making your decision.
If you will need to change factor products start looking into your options. There are many different factor eight products on the market. Things you may want to discuss with your doctor are:
Plasma derived -vs- 1st generation recombinant -vs- 2nd generation recombinant -vs- 3rd generation recombinant (do you feel strongly about the differences?)
Efficacy (maybe consider evaluating peak and troth factor levels with a new product)
Is the half-life a real concern?
Maybe storage room is a concern so maybe you want to ask about the packaging size or room temperature storage.
In any case, you should know why you are going with one product over another. In my opinion "I don't want to have to think about it", is a poor way to decide.
Locating the Genes Responsible for Inhibitors.
(Editorial)
December 10, 2016
On December 7th Baylor College of Medicine released their findings about a platelet disorder know as ITP. ITP is a disorder in which the person's immune system produces antibodies to the platelets and causes low platelet counts.
In Hemophilia, inhibitors are antibodies that the patient's immune system makes to the clotting factor protein. This response causes hemophilia in people with "acquired hemophilia" and causes inhibitors to clotting factors in people that have hemophilia to begin with.
So what did Baylor find? "Results of the study showed variants in genes associated in immune cell signaling, ... are significantly more common in children with chronic ITP than in the healthy population."
What does this mean for inhibitors and hemophilia? Since the links that they are finding to ITP are in the genes associated to immune cell signaling and not the genes controlling platelet production, maybe the hemophilia world should put as much emphasis on looking at the genes for the immune system as they do looking at genes for factor production.
Information on the genes for the immune system may not be as profitable for manufacturers and those in the hemophilia industry as gaining information on clotting factor development but it seems the likely place to find the answer to inhibitors.
If you would like to read about Baylor's finings on ITP you can do so straight from Baylor's website by clicking here.
Information, Misinformation, Marketing, and Propaganda (Editorial, Part 1 - Social Media Traps)
By, Chad Blair
People in the Hemophilia Community are constantly being bombarded with information, marketing, misinformation, propaganda and even caught in information traps and then used as bait themselves. Some people in the community just tune it all out as if it were background noise while others try to sift through the mountain of mail, email, online ads, and social media traps.
We, as a community want to be connected. The more we talk to each other and share our experiences the more we learn and are more able to help each other. Most of us know Facebook really well by now and many spend hours on Facebook each day. Facebook groups about hemophilia are great places to meet each other then right?
The answer to that question is "Maybe". Before you join or "like" any groups or posts you may want to do a little snooping. Many of the groups and pages in existence are "owned" by industry and use names for their pages that aren't so obvious. By liking or joining them, you are basically requesting that they send you sales and marketing material for their company. Furthermore, you are authorizing them to use your name as endorsing them. Ever seen anything like "John Doe likes the Bleeding Conditions Community" or "Jane Doe has joined HemoFriends".
This isn't just happening on Facebook either. If you are looking for some places to connect and share you should probably start with people and places you already know. Your local and national organizations may already have groups set up for this sort of thing. For example, The Hemophilia Federation of America has the Blood Brotherhood and Blood Sisterhood on-line forums and they are much more focused on protecting your information than selling it like many social media sites do.
Earlier this year, the Hemophilia Federation of America lauched a new site hoping to assist with this problem to some degree. They call it an Online Transparency Tool but I know not every organization and group is listed on it yet. While this is a great quick reference, nothing makes up for doing your own homework.
New Inhibitor Treatment
June 15, 2015
ATX-F8-117 is a new treatment by a company most people in the hemophilia community here in the US have never heard of. That company is "Apitope International NV". The company is based in Belgium and the UK and is more known in the realm of therapies for immune system conditions. This should really come as no surprise since an inhibitor is nothing more than an immune response to the clotting factor product.
On June 9th, ATX-F8-117 received "Orphan Drug Status" by the FDA here in the US. This is not the same as approval as now the treatment must undergo clinical trials. Orphan Drug Status simply is a designation by the FDA for medications that are not expected to recoup the costs of research and development due to the small size of the patient base. The Orphan Drug Program incentivizes development of medications for rare diseases that may not otherwise get the funding it needs.
ATX-F8-117, if it works correctly will selectively suppress the immune response to the Factor VIII protein. We'll be watching the clinical trials for this one closely with fingers crossed.
For more information on this announcement visit Apitope's News Page.
Hemophilia Walk in Western NY
August 18, 2015
There will be a walk on August 29th in Buffalo's Cazenovia Park. The event is being called "My Blood Walk" and is being hosted by the Hemophilia Center of Western New Yourk Foundation anlong withe the Treatment Center itself. The goal of this walk is to simply raise awareness of bleeding and clotting disorders in a fun way.
The walk takes place from 10:00am to Noon and there will be several activities for children as well as food vendors on site.
For more information;
Check out the event flyer.
or
the HCWNY Website.
ABC's show "Secrets and Lies"
Lies About Hemophilia
No show on TV has proven itself more aptly named as the show "Secrets and Lies". This is because the show itself lies about the facts. One of the characters on the show describes hemophilia as "a nasty byproduct of incest".
The show goes on to innacurately describe the genetic links involved with the bleeding disorder and claims that hemophilia comes about when both mother and father have the mutation.
Fact 1: Nearly 33% of the global hemophilia cases are the result of random mutations. This means that the child did not inherit the gene from mother nor father. It's pretty hard to blame the condition on incest when it didn't have anything to do with the parents.
Fact 2:Hemophilia is an inheritable trait. The mutations for hemophilia are located on the X Chromosome. Using logic, we can rule out the need of a person to get the gene for hemophilia from both parents. Since boys only receive one X Chromosome (passed down from their mother), males CAN NOT receive it from both parents.
ABC owes the Hemophilia Community an apology for their cavalier attitude when it comes to hurting an already ostracized group of people with misleading information.
It is unclear if the writers knew the truth and intentionally sought to hurt the bleeding disorders community, if they lacked the competence to do the necessary research, or if they were too lazy to type "hemophilia" into Google.
Swimming in Bias
(Editorial)
As time goes on, more and more studies are being produced, more "data" is available, and more misleading information is provided. In this current "information age" how do we know what is truth, and what is hype?
In fact, nearly all the information provided in the studies we see are "true". Then again if we made 50 people put on rose colored glasses then asked them to tell us what color the sky looked now, they would probably say "purple" (unless they were color blind of course). Using this data we could write an article summarizing the data and conclude that it is likely that the sky is purple.
How can a scientific study say the sky is purple? The fact is that the study didn't, it was our analysis of the data, our neglect of the information about the glasses, and our bias that wanted the result to say purple that allowed us to draw this conclusion.
When reviewing a study article:
Read carefully and take what the summary and conclusions say with a grain of salt.
Look at the authors, their affiliations, and their disclosures. Specifically look for conflicts of interest that may bias their reporting.
Do not take summaries and conclusions for fact. Anyone can draw a conclusion... remember the sky is now purple.
Be willing to dig in. If the author(s) are biased, you'll probably be able to determine that by looking at the raw data and comparing it to the summary.
If you do not understand the data, ask someone to explain it to you. Do not simply assume that the data actually supports their conclusions.
Check out this example where a manufacturer recently FedExed an article to several people that anylazed a study on two different prophylaxis regimens of a recombinant factor IX.
Vaughn Ripley -
Ultimate Men's Health Guy Search
As of May 28th, 2014 Vaughn was in 2nd place by a mere 250 votes.
Vaughn needs the hemophilia community to step up and sound in. Being a part of the hemophilia community means you have seen the difficulties that come along with it. Helping Vaughn be recognized as the "Ultimate Men's Health Guy" would help to validate the years of hard work and diligence it takes a person with Hemophilia whom has survived HIV for over 30 years to stay healthy.
Vaughn's personal story and success would also serve as a terrific example of not letting chronic conditions dictate your life. With hard work and taking care of himself, he has proven that treating the whole person (mind & body) through doctors, proper treatment, stress relief, exercise, a healthy diet, and simply taking care of himself a person can overcome some tremendous obstacles.
Follow the links below to learn more and/or vote.
Vaughn's Men's Health Profile (Vote Here)
Ultimate Men's Health Guy Leaderboard
World Hemophilia Day
Today, April 17th, 2014 is World Hemophilia Day. So what is World Hemophilia Day and what does it mean? World Hemophilia Day is day globally recognized as a day to raise awareness of bleeding disorders and educate others.
As the World Federation of Hemophilia (WFH) puts it: "Every year on April 17, World Hemophilia Day is marked around the world to increase awareness of hemophilia and other inherited bleeding disorders. This is a critical effort with an ultimate goal of ensuring better diagnosis and access to care for the millions of men, women and children who have a bleeding disorder yet remain without treatment."
The WFH also provides many resources to help in this effort like the poster below directly from their website at www.wfh.org.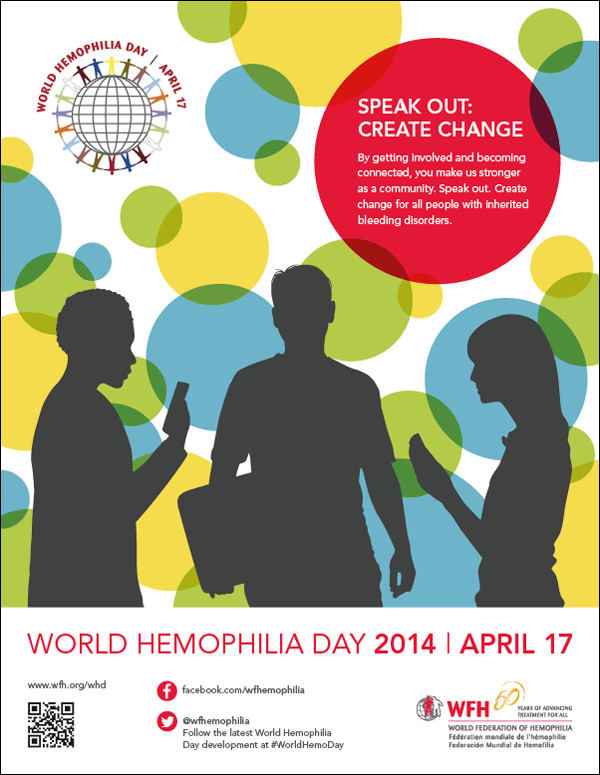 Fixing the Anti-Mandatory Mail Order Bill
Call your New York State Senators and Assemblymen and ask them to support A5723B / S3995B!
The New York State Legislature is considering a bill to clarify the intent of the Anti-Mandatory Mail Order (AMMO) Bill and prevent Pharmacy Benefits Managers and Insurance Companies from circumventing the law. The purpose of the new bill is: "to clarify and strengthen provisions in current law to ensure that consumers have the option to access every covered medication from a local network participating pharmacy and are not forced into mandatory mail order."
According to the bill sponsors, the reason the AMMO Bill needs fixing is:
"In January, 2012 the current provisions of State Insurance Law took effect guaranteeing that consumers would always have the choice of obtaining covered prescription drugs from a local network participating pharmacy.

Over the course of the year, however, it became clear that the law was not working as intended. Consumers received letters from pharmacy benefit managers directing them to out-of-state "specialty" pharmacies. Consumers returning to their local participating pharmacy could no longer obtain their prescription drugs there because the claim was blocked. The pharmacy was notified that coverage for that medication was no longer covered in the 'retail' pharmacy network. The patient was to be directed to the 'specialty' pharmacy.

Contrary to the intent of the law, beneficiaries were being forced into mandatory mail order programs on the basis of the medications they ware prescribed. Local pharmacies otherwise in the network were not in the new 'restricted' network. Pharmacy benefit managers were steering prescription volume out of their network pharmacies into their wholly owned pharmacy subsidiaries.

Community pharmacy owners took action. They contacted plan sponsors and pharmacy benefit managers asking for contracts that would allow them to continue to dispense covered medications available to them from their wholesalers. The phone calls, letters and e-mails that followed document that large pharmacy benefit managers were using "terms and conditions" as a legal roadblock against community pharmacies. These include unreasonable and onerous 'terms' such as costly accreditations, on-call 24-hour nursing services and excessive liability insurance demands. Some threatened to exclude community pharmacies from the 'retail network in order to be enrolled as a 'mail order' pharmacy. For these reasons, it is necessary to remove "terms and conditions" from current law.

The terms 'in advance through a contractual network agreement have served as another to the parity between mail order and community Pharmacies envisioned in the original law. A close reading of the law allows a local network pharmacy to agree to accept the same reimbursement amount, but nothing in the law requires the pharmacy benefit manager to grant the participating community pharmacy an additional contract to meet the mail order reimbursement price. The present statute must be amended to resolve this contradiction and restore original legislative intent. The amendments proposed are reasonable and fair. Defining 'mail order' is necessary so that its meaning cannot be manipulated by self-promoting pharmacy benefit managers."
To find the contact info for your representatives simply follow the links below.
For your Senator, enter your address on the site www.nysenate.gov where it says "FIND MY SENATOR".
For your assemblyperson, enter your address on the site assembly.state.ny.us where it says "Member Search Results".
New Aggressive Strain of HIV
In a report by HealthDay News and MedlinePlus on December 4th, a new strain of HIV has been discovered in Guinea-Bissau, a small country in Africa. The strain is a combination of two slower moving strains commonly found in the country. While this type of hybridization has been speculated about and discussed for many years, this now illustrates the volatile nature of the HIV virus.
According to MedlinePlus, "increasingly mixed and complex HIV strains are becoming more common in countries and regions with high levels of immigration, such as the United States".
For more information on this topic, please refer to:
Pre-filled Saline & Heparin Flush Recall
Monday, August 19th, 2013, Covidien has voluntarily recalled several lots and sizes of their Monoject TM saline and heparin flush syringes. Several of these prefilled syringes may contain only water and were not sterilized.
This is a general notice to all people who use prefilled flush syringes. U & I Pharmacy has not dispensed any of the flushes in question and our customers should be reassured that any flushes received from us are not involved in this recall.
For more information on this recall, you may read the release by clicking here.
Delaware Caps Insurance Cost-Sharing Practices
July 22, 2013 - Three years after New York State passed a landmark piece of legislation banning commercial health insurance cost-sharing tiers altogether, Delaware has taken a middle of the road approach to addressing the same concern. This is a huge step in financial stability for many people with chronic illness, however may still leave them vulnerable to the number one cause of bankruptcy in the US, which is healthcare costs.
This new legislation limits the copay amount of the cost sharing tiers to $150 per month for certain prescription types. Fortunately, clotting factor, used for hemophilia, is one of those prescription types. Unfortunately, this still means that for 12 months worth of clotting factor (not including any additional factor needs for things such as break-through bleeds, surgeries, and various other non-routine issues) the individual would still be looking at $1800.00 in copays, after their deductible is paid.
This cap is also per prescription, not per individual. For example, a person with Hemophilia that is also treating Hepatitis C may be on three or more prescriptions that fall into this category. For the tree medications, the copays could total $450 per month after deductibles are paid out. This format leaves a person paying for just three of these medications $5400.00 per year + deductibles. Add to that the costs of doctors visits, blood work, and the actual premiums themselves and it piles into a very large financial burden that gets stacked on top of the stress from the medical aspect itself.
For more on this Delaware Cost-Sharing Cap, you can read an article about it here, in The Washington Post.
MASAC Advises Status Quo
The National Hemophilia Foundation released a statement earlier today, May 21, about a study we reported on in January. To find the earlier story, look in our previous updates for "Study Finds Inhibitor Development is Completely Unrelated to Product Type!"
The Medical And Scientific Advisory Committee (MASAC) Advisory is a summary of this study and the recommendation to disregard the "moderately higher" inhibitor rate found in patients that received the 2nd generation full length molecule products. Until there is more evidence that this is in fact the case, "MASAC concludes that no change in clinical practice is warranted".
Remember, inhibitor development is most often found in previously untreated patients or individuals with a very limited exposure to clotting factor products. If a person does not have inhibitors and has been exposed to clotting factor over 50 times, it is very unlikely that they will develop inhibitors regardless of product. If you have any concerns, as always, you should discuss them with your treating physician.
Factor Given Subcutaneously?
Published in an article on April 8, 2013 by PR Newswire, Prolor Biotech received a patent covering a novel protein technology. This patent covers "CTP-enhanced" proteins, including clotting factor proteins. To date, phase I clinical studies have been on mice for both new Factor VII & IX molecules using the CTP technology.
With the new patent in hand, Prolor is aiming to start a phase II trial (the first human testing) of the Factor VIIa-CTP in early 2014. What makes this technology exciting is that not only does it boast to be long acting, but in phase I studies on mice it also was shown to have potential in IV form as well as subcutaneous shots. Whether this will work in humans remains to be seen, however the idea of advancements like this can give the hemophilia community hope that an even better future is on the horizon. New, more effective and easier treatment is being developed.
To read the full article about Prolor Biotech and its new patent, click here. (Original article was removed from source website. Link now directs to a release dated July 3, 2013.)
The HFA Symposium Agenda is now available online.
The HFA has made the agenda for its annual symposium available from their website. The HFA has three separate tracks running simultaneously, each tailored to different parts of the community.
The "Blood Sisterhood Track" holds sessions specifically for females with bleeding disorders. An example is the session "Treatment Across the Life-Course" where they will delve into treatment options for females with bleeding disorders and how they affect the different stages of a woman's life.
The "Dads & Moms Track" offers sessions like "I've Got This": Helping Our Kids Help Themselves" where the topic is helping their children gain the necessary confidence and prepare taking over the responsibility of their own medical conditions.
During the "Blood Brotherhood Track" sessions tailored to men with bleeding disorders take the stage. One example of these sessions is the session "What's So Stressful About Hemophilia?", where the men will delve into the stresses, depression and coping mechanisms involved with having a bleeding disorder.
At the same time, there is a kids program as well as day care to ensure that everyone can attend the sessions.
To learn more and check out the agenda for yourself, visit the HFA's website by clicking here.
New Blood Tests for Hemophilia!
As published in "Blood, the Journal of the American Society of Hematology" on January 14th, 2013, doctors are beginning to look at using a new blood test to determine treatment and prognosis for individuals with hemophilia. This new test does not look at the individual clotting factor assays, but instead looks at the blood's overall ability to clot.
According to the article, this new blood test (referred to as a global assay) has been being looked at for 10 years now and offers a far more accurate picture of the individual's clotting ability. It can only be assumed that dose determination as well as what products are chosen for each individual may be impacted greatly once these "global assays" come to the forefront of treatment.
This type of treatment may also have enormous implications on individuals with inhibitors. For individuals that are either unable to undergo Immune Tolerance Therapy or were unsuccessful in suppressing the inhibitor, these global assays may offer a much better understanding of treatment and bleed management by providing a better understanding of the full effects of bypassing agents.
Click here to read the article for yourself.
Doctor Raises Questions and Concerns Regarding Longer Half-life Therapies
On December 8th, the American Society of Hematology published a paper entitled "New challenges in hemophilia: long-term outcomes and complications". In this paper, Doctor Guy Young raises some very good questions regarding the emerging extended half-life therapies.
In the section of the paper called "Challenges with novel therapies" he starts off by discussing the possible differences in efficacy (in regards to peak factor levels and patient metabolism) as well as clinician assessment of these. He states that this issue will not be solved in clinical trials, and appears to suggest that this will have to be a trial by fire scenario.
His next point discusses the changes that will take place in laboratory monitoring of factor levels. The testing and evaluation of blood work appears to become much more complex and unreliable. The days when a factor percentage achieved for one product could be compared with same peak level achieved by another product will not remain the same.
In the next paragraph, he looks at the resulting position an extended half-life would put an individual in. He looks at the scenario of an individual with hemophilia that may participate in some type of sports or other physical activity more than once per week. With an extended half-life product it is likely that some of this physical activity would come at a time when the individual has a very low factor level. (Since extended half-life may very well mean an extended time near the trough level.) He poses the question: "Would such a patient be better off with the shorter acting products allowing for multiple peaks per week or would such a patient use a combination of a long-acting and short acting product?"
Finally he brings up the points of unforeseen adverse events and costs. He warns that while the clinical trials help identify adverse events, far too often novel therapeutics are approved, only later to find that they had "serious deleterious effects" resulting in their withdrawal from the market afterwards. He also cautions that insurance companies may not want to pay for such products, especially if the product only prolongs a half-life 1.5 - 2 fold the current therapies. He questions what society should pay for this "modest gain"
To read this full paper by doctor Guy Young, simply click here.
Bayer Completes Recruitment of First Cohort for a Phase II/III Study of a New Activated Recombinant Factor VII Product.
According to a report released on November 28, 2012, Bayer's new factor VII product and studies are designed for treatment of inhibitor patients. Currently the only product of this nature on the market is called Novo7 and made by Novo Nordisk.
Novo Nordisk Applies for Approval on New Recombinant Factor VIII Product.
As reported by Zachs Equity Researchon Wednesday, October 17th, Novo Nordisk has applied for approval of "Turoctocog Alfa", a new 3rd generation recombinant Factor VIII (8) product, but this is just the tip of the iceberg. Novo has been busy in several areas including applying for approval of a new recombinant Factor XIII (13) product last year as well as having longer lasting Factor VIII (8) and IX (9) products in phase 3 clinicals.
For more information, you can check out the Turoctocog Alpha story at http://community.nasdaq.com or you can check out Novo Nordisk's pipeline directly by clicking here.
Baxter Applies to the FDA for an approval of a new FIX product.
On September 4th, Baxter submitted an application to license BAX 326 with the FDA. If approved, BAX 326 will be Baxter's first recombinant factor IX (rFIX) product. BAX 326 has already compleded phase III trials and involved study participants in 10 countries. For more on this story, click here.
Bicyclist Raises Awareness and Shatters a Mold
KDLT News July 15 - Barry Haarde (a 44 year old man with hemophilia) is in the middle of a cross country trek by bicycle. While the task is enormous, his goals are simple; raise money for children with hemophilia overseas, raise awareness and change perceptions here in the US.
Crediting his prophylaxis treatment with his ability to take on the world, or at least the US from coast to coast, Barry Haarde has already accomplished much of his goal. For more on this incredible story please go to KDLT NEWS' site.
The Soozie Courter "Sharing a Brighter Tomorrow" Hemophilia Scholarship Program
Pfizer's tuition assistance program will be awarding a total of 17 scholarships totaling $50,000 to undergraduate, graduate and vocational school students that have hemophilia (either A or B). Graduate students will be eligible for one of 5 $4,000 scholarships whiile undegraduates and vocational school students will be eligible for one of 12 $2,500 scholarships.
Applications must be in the mail by July 13, 2012.
For more information on the Soozie Courter - "Sharing a Brighter Tomorrow" scholarship program you can call 1-800-999-2349 or visit the scholarship information at Hemophilia Village. (Link removed to prevent confusion and replaced by new scholarship info in more current news.)
CDC Releases Videos Promoting Hemophilia Awareness!
On May 11th the Centers for Disease Control publicly released two short videos to assist in public awareness of hemophilia and to help the community broach the topic with other people in their lives. The two videos, called "Playing it Safe With Hemophilia" and "Starting the Conversation: Hemophilia" can be viewed by simply watching them in the viewers below (you need Flash Player 9 or better), or viia the CDC's website.
Playing it Safe With Hemophilia
Starting The Conversation: Hemophilia
Study Shows Both Pros and Cons
to Fc Fusion and Factor IX!
January 19, 2012 - the Journal of the American Society of Hematology prints a study regarding a phase I trial of the Factor IX protein incorporating Fc Fusion technology. The study shows that the time that the Fc Fusion factor molecule lasts in a patient's body is extended by an incredible 3-4X that of the existing monoclonal factor molecules.
This paper also discusses the after effects that were noted with the new Fc Fusion product. While the study is only based on 14 individuals and it cannot be certain which after effects were directly related to the product, they will definitely be something to watch as more research is done.
To read the report yourself, the pros and the cons, follow this link and see what you think. Would possible headaches and other side effects be worth the dramatically extended half lives?
The FDA Gives Green Light
To Gene Therapy!
A new year brings a new realm of possibilities. On January 4, 2012 the company "Amsterdam Molecular Therapeutics" announced that they had been given approval by the FDA to conduct clinical trials on Hemophilia B patients in the United States. St. Jude's Children's Research Hospital in Memphis will be the Center point for the studies in the US.
These studies will be building on the earlier successes you've already read about right here on 'The Latest" page. More information on this announcement can be found here.
Follow Up!!! Hemophilia B, Treated With a Virus?
On December 11, 2011 The New York Times published a fantastic article with more updated information on the very story we broke over two months prior. To read this article in its entirety please click here. While their article is great the New England Journal of Medicine did publish an article about the study as well one day earlier. To read the New England Journal of Medicine's article, click here.
New Study on Immune Tolerance Therapy
November 13, 2011: According to a study published in the Journal of the American Society of Hematology high dose therapy for immune tolerance is shown to not only be more effective than low dose therapy, but it succeeds in much less time and without any noticeable increased chance of infection or other concerns. To view the article on the Journal's website, click here.
New Factor Xa Research May Help Hemophilia A and B Patients with Inhibitors!
On October 23, 2011 Nature Biotechnology published a study completed by researchers at the Children's Hospital of Philedalphia on an engineered Factor Xa. The study will be appearing in the November 2011 issue. The genetically engineered Factor Xa should work as a bypassing agent and allow clotting even more efficiently than Factor VII does.
This could really enhance an inhibitors patient's treatment and prevent many of the prolonged bleeding episodes when the research comes to fruition. This may also lend itself to act as a treatment for people having rapid blood loss in other situations as well.
To read more on this subject you can check out; News-Medical or for the more scientifically minded, Nature Biotechnology. To access more than the summary on the Nature Biotechnology site, you will have to purchase the article if you do not have a subscription.
Hemophilia B, Treated With a Virus?
In a recent meeting (October 7, 2011) at the National Institutes of Heallth hemophilia was a central part of the discussion about gene therapy. Six severe hemophiliacs with Hemophilia B were given a virus engineered to carry the genes for Factor IX production.
All six saw increases in Factor IX production ranging from 1% to 8% in increased levels. This provides new hope that some time in the future gene therapy may become reality for bleeding disorders.
We'll be trying to follow up on this story in the near future. More information is also available at the Science American Association for the Advancement of Science magazine's website.
U.S. FDA amends J&J vaccine fact sheet to include rare bleeding risk.
January 11, 2022

All information in the following article is provided to you in good faith. U&I Pharmacy makes no representation, express or implied, regarding the accuracy, adequacy, validity, reliability, availability, or completeness of any information shown in the article summary below. U&I recommends you speak with your physician directly, before making any changes, to see if the COVID-19 vaccine would be right for you.
Johnson & Johnson's COVID-19 vaccine fact sheet was amended by the U.S. Food and Drug Administration on January 11th to include a rare risk of developing immune thrombocytopenia, a bleeding disorder. The symptoms of such, include easy bruising (tiny blood spots under the skin), or unusual or excessive bleeding according to the FDA.
The addition follows similar changes made by other regulators including those from the European Medicines Agency in October. The AstraZeneca and J&J's vaccines use similar platforms and have been linked to a combination of low platelet counts and blood clotting which is known as thrombosis with thrombocytopenia syndrome.
The U.S, Centers for Disease Control and Prevention (CDC) recommended Americans choose either of the other COVID-19 vaccines (Pfizer or Moderna) instead of J&J's due to the rare, but sometimes fatal, risk.
To learn more about the J&J vaccine fact sheet update, please feel free to read the original article written by Leroy Leo on Reuter's website by following the link provided here
Fitusiran Curbs Bleeds in Hemophilia A, B with Inhibitors, Data Show
November 15, 2021

All information in the following article is provided to you in good faith. U&I Pharmacy makes no representation, express or implied, regarding the accuracy, adequacy, validity, reliability, availability, or completeness of any information shown in the article summary below. U&I recommends you speak with your physician directly, before making any changes, to see if future gene therapies would be right for you.
A recent Phase 3 ATLAS-INH study (NCT03417102) yielded amazing results for Fitusiran, a hemophilia A or B drug for individuals over 12 with inhibitors. The trial - which was created to determine the safety and efficacy of the product - showed with long term use the patients experienced a great reduction in the number of bleeding issues, and in some cases, even completely stopped them. Extended use of the product was also shown to even improve overall quality of life for the individuals with hemophilia A.
Fitusiran is an experimental RNA interference drug developed by Alnylam Pharmaceuticals in collaboration with Sanofi. It works by disrupting antithrombin protein activity - a neutralizing antibody - which normally stops the enzyme thrombin from allowing blood to clot.
The study's 57 participants (ages 13-63) were randomly assigned to take either a once-a-month subcutaneous 80mg injection of Fitusiran or an on-demand dosing of a bypassing agent. Similar to Fitusiran, BPA's help hemophilia patients who cannot take regular clotting factors due to inhibitor activity.
The results of the study showed Fitusiran greatly decreased the annual bleeding rates of patients when compared to bypassing agents (1.67 vs 18.07). On top of that, the joint bleeds (1.35 vs 13.76) and subcutaneous bleeds (0.87 vs 15.68) in both A and B type individuals were also positively affected. A sum of 25 patients on Fitusiran (65.8%) even presented zero bleeds throughout the duration of the study.
Dietmar Berger, MD, PhD, chief medical officer at Sanofi had this to say, "in our efforts to support the transformation of therapeutic landscapes, we look forward to presenting our Phase 3 results on Fitusiran's ability to provide protection from bleeds for people with hemophilia A or B with inhibitors."
On December 12, the American Society of Hematology Annual Meeting will present all of the data collected from the now-completed study; under the title "Efficacy and Safety of Fitusiran Prophylaxis, an siRNA Therapeutic, in a Multicenter Phase 3 Study (ATLAS-INH) in People with Hemophilia A or B, with Inhibitors (PwHI)."
To learn more about Fitusiran and its benefits, please feel free to read the original article written by Steve Bryson PhD on Hemophilia News Today's website by following the link provided here.
'Reverse Vaccination' May Help Prevent Immune Response
October 11, 2021

The immune system is a useful part of every individual's genetic makeup which helps the body fight against viruses, diseases, and more; trying to do harm to its host. Unfortunately for some, like those with hemophilia, it can also sometimes hinder the effectiveness of life saving drugs by creating a resistance to them. Thankfully a new platform in development could be the answer to this dilemma. It's based on the principle of "reverse vaccination," by inducing an immune tolerance so the antibodies, produced by the immune system, will stop treating the drugs as an external threat.
The Scientific Reports journal published a new study called "Rational design of a nanoparticle platform for oral prophylactic immunotherapy to prevent immunogenicity of therapeutic proteins" which describes the breakthrough.
A common approach used to manage a hemophilia patients' disease is replacement therapy. This involves giving the patient a version of the clotting protein that they are missing through an infusion or other method. The immune system can sometimes view these drugs/proteins as an external threat and tries to fight them because they are a foreign substance inside the body.
Co-author of the study Sathy Balu-Iyer, PhD, associate dean for research in the UB School of Pharmacy and Pharmaceutical Sciences, was quoted speaking on the subject. "The safety and effectiveness of several life-saving therapeutic drugs are compromised by anti-drug antibodies. Once antibodies develop, clinical options available for patients become expensive and, in several cases, ineffective."
Therefore, Balu-Iyer and his team made it their mission to create a new platform which would instigate an immune tolerance against life-saving drugs; hopefully making them more effective in the long term. Tolerance is a term used to describe when immune cells acknowledge various substances as being a part of the body and stops trying to fight them.
To do this the scientists made nanoparticles which contain the drug alongside a fatty acid known as lysophosphatidylserine, or Lyso-PS, which promotes immune tolerance. Once ingested, the nanoparticles would guard the medicine as it moves through the stomach until it reaches the small intestine. At that point it would be taken by specific immune cells that generate tolerance. This in turn motivates another immune process to kick in that creates regulatory T cells which act as an immune response.
As a whole, the researchers agreed the new platform is "an attractive and promising approach to prevent and possibly reverse [immune responses against] a broad range of life-saving protein therapies, autoimmune diseases, and allergies." Once the platform becomes readily available to the public, those with hemophilia and other life-threatening disease states will be able to live longer, healthier lives without having to worry about their drugs becoming ineffective due to an immune resistance.
To learn more about how this new drug platform could help you, please feel free to read to the original article written by Marisa Wexler MS on Hemophilia News Today's website by following the link provided here.
COVID-19 May Trigger Acquired Hemophilia A, Case Study Says
August 2, 2021

A recent U.S case study was published in BMJ Case Reports called "Severe acquired haemophilia associated with asymptomatic SARS-CoV-2 infection." This article discusses how the SARS-CoV-2 virus, which causes COVID-19, may be the reason behind why a 65-year-old man with prior clinical history of an autoimmune thyroid disease developed acquired hemophilia A.
Acquired hemophilia A is a very rare disease where an individual experiences excessive bleeding without any prior personal or family history of blood clotting diseases. Up to this point, only 3 cases of COVID-19 have been linked to those with acquired hemophilia A according to the study.
The gentleman from the article went to the hospital with chest pain, shortness of breath, and substantial bruising on his arm. His clinical history includes heart failure, chronic obstructive pulmonary disease (COPD), and an autoimmune disease called hashimoto thyroiditis which causes the immune system to attack the thyroid gland with antibodies. Thirty years ago this disease led the man to get his thyroid surgically removed.
Testing on the patient showed his blood wasn't clotting normally which typically indicates the presence of a bleeding disorder. Upon further examination they realized his FVIII levels were low and he even had FVIII inhibitors present, which is consistent with a diagnosis of acquired hemophilia A. When tested for SARS-CoV-2 his results came back negative, but a total SARS-CoV-2 antibody test came back positive meaning at some point he had been infected with the virus even though he showed no signs of COVID-19. Doctors noted he had an increased level of a thyroid stimulating hormone, although his free thyroxine level was normal. Other blood tests checking for a variety of disorders, infections, and cancers all came back negative.
To relieve the built-up pressure and swelling in the patients' arm, his doctors had to perform surgery. Unfortunately during the procedure, he experienced massive blood loss and required several blood transfusions. After surgery was over they had to shift their focus to dealing with his inhibitors, which was accomplished by dosing him with a variety of drugs over a 4-week period.
Once his FVIII levels escalated to a safe point, the doctor's started him on an approved bypassing agent known as FEIBA at 50 units per kilogram of body weight every other day, until he had no more active bleeding and his inhibitor levels reached 0. Following 2 additional doses of the hemophilia drug, and even more blood transfusions, the 65-year-old man was finally discharged to a rehab facility with instructions to cut down on the other drugs. Three weeks later, he remained free of spontaneous bleeds and his FVIII levels were back to normal with an inhibitor level of 0.
The writers of the study noted, even though they couldn't say beyond a reasonable doubt that SARS-CoV-2 was the culprit behind why the man ended up with acquired hemophilia A it was still a strong possibility. They went on to say, "the patient suffered a previous SARS-CoV-2 infection prior to his current admission, and this was perhaps the trigger for the production of factor inhibitor, especially with his underlying predisposition for autoimmunity given his history of autoimmune thyroiditis."
To learn more about the patient and the overall situation that lead to this diagnosis, please feel free to read to the original article written by Vanda Pinto, PhD on Hemophilia News Today's website by following the link provided here.
Hemophilia B Gene Therapy AMT-061 Prevents Bleeds after 1 Year
June 23, 2021

All information in the following article is provided to you in good faith. U&I Pharmacy makes no representation, express or implied, regarding the accuracy, adequacy, validity, reliability, availability, or completeness of any information shown in the article summary below. U&I recommends you speak with your physician directly, before making any changes, to see if future gene therapies would be right for you.
The gene therapy Etranacogene Dezaparvovec (AMT-061) is still showing an increase in factor IX (FIX) activity in patients with moderate to severe hemophilia B even one year after administration. Since the Phase 3 HOPE-B trial (NCT03569891) started, 96.3% of the men in the study were able to stop their routine prophylaxis treatment. This outcome is giving hope to the gene therapy's creator, uniQure, that AMT-061 will be able to help patients long term.
UniQure's president of research and development Ricardo Dolmetsch, PhD, was quoted as saying, "we continue to be very encouraged by the data generated from the HOPE-B pivotal study." The discoveries of the trial will be addressed at the International Society on Thrombosis and Haemostasis 2021 Virtual Congress, between July 17-21.
UniQure already received the commercialization and licensing rights in May for AMT-061 through CSL Behring. They now hope to get the therapies approval from the U.S. Food and Drug Administration (FDA) sometime in early 2022.
The study is currently evaluating the drugs safety and effectiveness over a 5 year period, with 54 men (average age 41.5) who have moderate to severe hemophilia B. This makes it the largest hemophilia B trial for an experimental gene therapy in history. Come September, the researchers will assess the annualized bleeding rates of the men marking 1.5 years since the trial began.
To learn more about the gene therapy AMT-061 and how it works, please feel free to read to the original article written by Marta Figueiredo, PhD on Hemophilia News Today's website by following the link provided here.
Most Hemophilia Patients Show Positive Attitude for Gene Therapy in Study
November 30, 2020

All information in the following article is provided to you in good faith. U&I Pharmacy makes no representation, express or implied, regarding the accuracy, adequacy, validity, reliability, availability, or completeness of any information shown in the article summary below. U&I recommends you speak with your physician directly, before making any changes, to see if future gene therapies would be right for you.
According to a study based out of the University of Leuven, in Belgium, individuals with hemophilia mostly have a positive outlook when it comes to gene therapies that will soon become available.
The survey was comprised of 19 men and 1 woman, who are between the ages of 41 and 60. 17 of the participants have hemophilia A and 3 have hemophilia B. Of these individuals, 80% had a severe case of the disease and 90% were afflicted by moderate or severe joint damage. 15 of the adults were routinely given preventative (prophylactic) replacement therapy, while the remaining 5 received factor as needed (on-demand).
The overall goal of the study was for researchers to identify the main selling points of gene therapies that were most important to patients. These findings would help inform the ongoing PAVING - Patient preferences to Assess Value IN Gene therapies – study; which is currently assessing the trade-offs between standard treatment and gene therapies as viewed by Belgian adults with hemophilia.
The top 5 most important treatment characteristics the participants used to make an informed decision on whether or not they would support receiving gene therapies were: annual bleeding rate, impact on daily life, the uncertainty of long-term risks, factor level in the blood, and the likelihood that their prophylaxis could be stopped.
Their full published findings can be read in an article titled, "Patient perspectives regarding gene therapy in haemophilia: Interviews from the PAVING study," inside the journal Haemophilia.
To learn more about the potential pros and cons of future gene therapies, please feel free to read the original article written by Steve Bryson, PhD on Hemophilia News Today's website by following the link provided here.
Hemlibra 'Comparable or Better' Treatment for Hemophilia A, ICER Finds
October 19, 2020

All information in the following article is provided to you in good faith. U&I Pharmacy makes no representation, express or implied, regarding the accuracy, adequacy, validity, reliability, availability, or completeness of any information shown in the article summary below. U&I recommends you speak with your physician directly, before making any changes, to see if Hemlibra is right for you.
In accordance with a report from the Institute for Clinical and Economic Review (ICER), the fabricated antibody Hemlibra - created by Chugai Pharmaceuticals and Genentech - can provide similar or even greater clinical benefits than standard factor VIII prophylactic therapy's to individuals living with severe hemophilia A that have no inhibitors. These reports are based off standard U.S. doses.
The research done by ICER found Hemlibra, in addition to its health benefits, is also a cheaper option than traditional factor VIII drugs due to the high prices and dosing regiments that are used with in the U.S..
David Rind, MD - ICER's chief medical officer - is quoted as saying the following in a recent press release: "Our analysis of the evidence suggests that emicizumab is comparable to or better than factor VIII prophylaxis and does save money overall. But our report notes that this is because the prices for factor VIII, despite recombinant technologies and apparent competition in the marketplace, have not decreased, making prophylaxis with factor VIII an extremely expensive treatment required for a lifetime."
Hemlibra is a subcutaneous (under-the-skin) injection which requires a weekly loading dose over the course of the first four weeks once the switch has been made. After completing that stage of preparation, patients have the choice of administering their maintenance doses: once a week, once every two weeks, or once every four weeks. Many potential customers agree that having the ability to choose their preferred dosing regiment, coupled with administering skin injections rather than infusing would make Hemlibra a less burdensome treatment than traditional methods.
ICER's study noted, "in HAVEN 4, [NCT03020160] a phase III observational study, all participants who were previously on factor VIII prophylaxis preferred emicizumab over their previous prophylaxis regimen."
To learn more about Hemlibra and other ways it might be more beneficial than standard therapies, please feel free to read the original article written by Forest Ray on Hemophilia News Today's website by following the link provided here.
Mononine Soon Will No Longer Be Available to Treat Hemophilia B
September 21, 2020

Mononine was the first highly purified factor IX (blood coagulation protein) drug approved by the U.S. Food and Drug Administration (FDA) back in 1992; and now after following a steep reduction in demand over recent years it will be discontinued by its manufacturer CSL Behring in the near future.
CSL Behring had this to say in a statement that was published on the Hemophilia Federation of America's website. "Over time, patients have transitioned from older therapies to newer, next generation treatment options, and very few patients currently remain on Mononine in the US. Accordingly, we are discontinuing Mononine."
The company is urging those who are currently still on the product "to talk with their Healthcare Professional soon to discuss alternate treatment options." The product will only be available until mid-2021 based off the current supply still in circulation.
All further questions about the decision can be directed to the company's medical information center at 1-800-504-5434, Monday–Friday 9:00 a.m. to 5:00 p.m. ET.
To learn more about CSL Behring's decision to discontinue the product please feel free to read the original article written by Aisha I Abdullah, PHD on Hemophilia News Today's website by following the link provided here.
FDA Delays Decision on Roctavian, Potential Hemophilia A Gene Therapy, for a Year or More
August 19, 2020

The U.S. Food and Drug Administration (FDA) recently sent Roctavian's developer BioMarin a letter requesting longer-term results; including two years of follow-up data on the 134 patients currently enrolled in the businesses Phase 3 GENEr8-1 trial (NCT03370913). This latest development pushes the expected approval date back over a year for the world's first potential gene therapy.
Jean-Jacques Bienaimé (BioMarin's chairman & CEO) was quoted as saying the following in a recent press release: "We are surprised and disappointed that the FDA introduced new expectations for the first time in the Complete Response Letter. We are confident in valoctocogene roxaparvovec (Roctavian) gene therapy and its potential to redefine the treatment paradigm for people with hemophilia A."
The FDA specifically noted in its letter, that there were variations between two of BioMarin's studies, which played a role in if the request was ultimately approved. As a result of these differences, the company is unable to depend on the findings of the earlier trial; which backed the durability of the product in those with rising factor levels, over the span of years.
The last individual who signed up for this trial will conclude their two year post-treatment evaluation sometime in November of 2021. Due to the timing of this evaluation, a final decision cannot be reached by the FDA until late next year or early 2022.
Despite this setback Jean-Jacques Bienaimé had this to say, "We remain committed to the hemophilia community and to leading the way to the first ever gene therapy in hemophilia A."
To learn more about the FDA's reason for the delay and how Roctavian would be ground-breaking in the world of hemophilia, please feel free to read the original article written by Joana Carvalho, PHD on Hemophilia News Today's website by following the link provided here.
Bypassing Agents
June 27, 2020

Hemophilia is a blood disorder, that in simple terms, affects an individual's ability to make enough clotting factor to control and stop bleeding after having an accident or injury; and in severe cases bleeding episodes may even show up spontaneously at joints. Currently there is no cure for the disease, and to make matters worse there's even a chance some patients may develop inhibitors that prevent standard treatments from working for them. Inhibitors occur when antibodies inside the individuals body develop a resistance to the clotting factor drugs used to treat their hemophilia. This is where bypassing agents come in and can be game changers.
Bypassing agents are treatments that individuals can take to "bypass" the need for standard clotting factor drug remedies. To elaborate, where a normal clotting factor usually outright replaces the specific factor the individual is missing through either plasma or recombinant means, bypassing agents produce the same final outcome through a variety of other methods. Several of these alternative methods include, but are not limited to: mimicking the clotting factor protein without actually being the real protein themselves, turning a bodies prothrombin into thrombin, and most recently for factor 8 deficient individuals - creating a bridge between factor 9 and 10 proteins that creates bonds similar to those found with factor 8.
There are many different avenues to choose from when an individual needs to start implementing a bypassing agent. We recommend they consult with their doctor to find the right one for them.
To learn more about bypassing agents and how they could help you, please feel free to read the original article written by Emily Malcolm, PhD on Hemophilia News Today's website by following the link provided here.
BioMarin's Gene Therapy for Hemophilia A Remains on Track for US Approval
May 13, 2020

Roctavian (valoctocogene roxaparvovec), formerly branded Valrox, is an experimental gene therapy developed by BioMarin Pharmaceutical for adults diagnosed with severe hemophilia A. Despite the COVID-19 crisis, BioMarin's application seeking approval for the therapy still remains on track and under priority review with the U.S. Food and Drug Administration (FDA). They are expected to reach a final decision by August 21 of this year.
A similar marketing authorization application was also submitted by BioMarin to the European Medicines Agency (EMA) who has been reviewing it under accelerated assessment since the beginning of the year. Although, the company does believe EMA's review process will eventually revert back to a regular length procedure in the future. A delay of at least three months is also suspected to be a possibility due to COVID-19. BioMarin eventually expects an opinion from the Committee for Medicinal Products for Human Use (CHMP) - a branch of EMA whose recommendations whether to approve therapies or not are usually followed by the agency - no sooner than late 2020 or early 2021.
"This milestone represents a tremendous achievement for BioMarin, but the potential approval of the first gene therapy in any type of hemophilia is an even greater triumph for the hemophilia community. They have been waiting decades for this groundbreaking advancement and we are honored to be on this journey together," the chairman and CEO of BioMarin - Jean-Jacques Bienaimé, said in a press release.
She later added, "with an approval decision for valoctocogene roxaparvovec expected later this year, our commercial team prepares eagerly to launch what we believe is the most innovative product yet for people with bleeding disorders."
To learn more about the progress regarding the gene therapy known as Roctavian, please feel free to read the original article written by Joana Carvalho, PHD on Hemophilia News Today's website by following the link provided here.
Genentech Letter - Hemlibra Availability During COVID-19 Crisis
March 20, 2020

Genentech understands the importance of Hemlibra for those living with hemophilia A and says they are committed to ensuring there is an adequate supply during the COVID-19 (coronavirus) global pandemic.
So far they have not identified any major impacts that would limit their ability to supply the drug based off current patient needs for the product. Regardless they have implemented site-specific plans throughout their global manufacturing network to deal with the crisis; and are taking measures to ensure the delivery of products both to and from affected countries remain stable. Genentech followed up by saying they will inform the hemophilia community immediately if they become aware of any changes to the supply or availability of Hemlibra in the future.
If you would like to learn more about what Genentech is doing to ensure Hemlibra is accessible for those in need, click here.
A link to the original Genentech letter can be found at the bottom of our HOME and SPECIALTY web pages.
The Patient Notification System
March 9, 2020

The Patient Notification System (PNS) is a first-of-its-kind system developed and created by the Plasma Protein Therapeutics Association (PPTA) and its members in 1988. Its purpose is to notify all patients who register to receive notifications about voluntary and/or mandated recalls regarding plasma protein therapies directly via email, telephone, or fax. Other notification systems are designed to inform physicians and pharmacists of these recalls, while the PNS empowers the patient to receive this important information directly instead of hearing it through a secondary source. Best of all, there is no charge to sign up!
The PNS is easily accessible, simple to understand, and up to date with info about every brand of blood clotting factor, immune globulin, alpha-1 proteinase inhibitors, and many other lifesaving plasma protein therapies. All info collected from the registrants is kept completely confidential and is never shared or accessible by anyone other than the third-party company that houses the computers to run the system and send out the notifications.
If you would like to learn more about receiving personalized plasma protein therapy drug recall notices from the Plasma Protein Therapeutics Association click here.
A permanent link to the PNS can be found at the bottom of our SPECIALTY and RECALL web pages.
MRI Superior to Radiography in Capturing Joint Changes That Signal Future Bleeds, Study Says
February 7, 2020

A recent study suggests, joint changes in ones ankles, knees, and elbows can be more easily detected by doctors using magnetic resonance imaging (MRI), instead of radiographs over the course of a five year study for people with hemophilia. During the study doctors noticed the affected joints would appear normal on radiographs but showed areas of thickened tissue on MRI scans.
This find is an indicator of synovial hypertrophy, or the enlargement (thickening) of the synovium - the connective tissue that lines the inside of the joint capsule. Such hypertrophy can result in degenerative changes and even cartilage destruction. This causes an increased risk of joint bleeds which gets more and more damaging as time passes. A joint disease known as Arthropathy can also occur which would be disabling to those with bleeding disorders and is something that needs to be monitored routinely.
The knees and ankles of the 26 patients studied (between ages 12-29) all showed minimal to no joint disease on original radiographs and 3T MRI's taken at the beginning of the study. After 5 years the individuals were re-scanned and only a total of 7% had alterations according to the radiographs, while MRI scans discovered abnormalities in 39% of the images taken. These abnormalities centered around joint issues such as effusion (23%), synovial hypertrophy (16%), and hemosiderin deposits (16%). This confirms MRI's are more sensitive in detecting joint changes.
To break the study down further, those found to have synovial hypertrophy by the MRI were believed to be indicating a "strong and independent" predictor for future bleeding, the study noted. Sure enough after a 5 year follow-up period, it was found that all MRI detected changes, except effusion, had been strong predictors of Arthropathy developing.
The original study published in the journal Blood Advances was named "MRI predicts 5-year joint bleeding and development of arthropathy on radiographs in hemophilia".
To learn more about their findings please feel free to read the original article written by Ana Pena on Hemophilia News Today's website by following the link provided here.
Pfizer Taking over Development of Potential Gene Therapy SB-525, Advancing into Phase 3 Trials
January 6, 2020

SB-525 is a gene therapy for hemophilia A patients that was developed by Sangamo Therapeutics in collaboration with the pharmaceutical giant Pfizer. Sangamo had been leading an open-label Phase 1/2 Alta trial (NCT03061201) and has now transferred the Investigational New Drug application (IND) of it, to Pfizer. The company will here on out lead the clinical development of SB-525 into Phase 3 clinical trials.
Pfizer has already begun recruiting participants to be a part of the lead-in Phase 3 trials (NCT03587116). These tests will support the therapy heading into Phase 3 registrational clinical trials. The six-month long study is evaluating the current effectiveness and safety of the preventive replacement therapy in the usual care setting. The trials will also support the advancement of fidanacogene elaparvovec, an investigational gene therapy formerly known as SPK-9001, into a Phase 3 trial as well; for those living with hemophilia B.
SB-525 was created to be used as a one-time treatment to help the body continuously produce working factor VIII (FVIII) - the clotting factor missing in hemophilia A. The gene therapy
would deliver the genetic information required for the production of FVIII to an individual's liver cells, where clotting factors are produced, using a harmless adeno-associated viral (AAV) vector. In other words, SB-525 is intended to help cells naturally produce FVIII on their own, which in turn reduces or even removes the need for replacement therapy.
Promising results were found during the Phase 1/2 Alta trial (NCT03061201). They were presented at the 61stAnnual Meeting of the American Society of Hematology, held recently in Orlando, Florida. Sangamo also presented the results at its Research and Development Day in December, where it provided updates on its pipeline.
To learn more about their findings please feel free to read the original article written by Patricia Inacio on Hemophilia News Today's website following the link provided here.
Hemophilia B clinically less severe than A, though with similar QOL
December 10, 2019

Despite clinical evidence that Hemophilia B patients are dealing with a less severe version of the disease than those with type A, the type A individuals still report having a similar quality of life (QOL), from a clinical standpoint.
Randall Curtis, MBA, from McMaster University presented at the ASH Annual Meeting and Exposition in Orlando regarding 2 studies he conducted, as a direct comparison, regarding the effects of living with Hemophilia A (HA) vs Hemophilia B (HB). In the studies, an equal amount of adults and children were monitored. Between 2005 and 2007 he followed 243 individuals with HA, and 107 with HB between 2009 and 2014.
In his findings, those with HB showed fewer symptoms, incurring a lower cost of care, and had less healthcare utilizations over the course of the study. Curtis also reported while looking at the treatments and outcomes for the clients, the overall adults with severe HB were 7% more likely to use prophylaxis as a treatment method than those with HA. Surprisingly, the opposite was true for the children of each group; where HA clients were 20% higher to be dosed with a "prophy" schedule than those with HB.
More than 2/3 of the overall clients in the study showed signs of obesity. Specifically, children with HB had 22% more overweight individuals than those with HA; however the HB clients seemed to be reporting more pain, and less range of motion issues in their joints. Curtis noted that the prevalence of obesity in hemophilia as a whole has both economic and clinical implications, and was quoted as saying, "A and B, mild and moderate patients, tend to be overweight, which causes more bleeding episodes in the lower extremities." With that being said, the annualized bleeding rates were higher in adults with HA than those with HB. The same outcome was also shown for children with mild to moderate severity.
To learn more about their findings please feel free to read the original article written by Katrina Altersitz on Healio – HemOnc Today's website following the link provided here.
Genentech Patient Foundation/Medvantx Announce Ancillary Safety Issue
September 21, 2019
Genentech recently sent out a notice regarding Medvantx, a specialty pharmacy, had shipped out incorrect ancillary supplies to patients receiving Hemlibra through the Genentech Patient Foundation. The affected individuals in question were given packages that contained incorrect length injection needles.
Both the Genentech Patient Foundation and Medvantx are actively trying to resolve the issue as soon as possible. They have reached out personally to the patients affected and their doctors alike by sending letters explaining the situation to hopefully stop any improper administration of Hemlibra by using the incorrect supplies.
Both entities ensure the vials of Hemlibra sent out with the incorrect ancillaries are not affected and can still be taken with an appropriately sized needle.
To learn more about their findings please feel free to read the original article on the National Hemophilia Foundation's website following the link provided here.
Cyklokapron Lessens Blood Loss, Joint Pain in Hemophilia A Patients Needing Hip or Knee Surgery, Study Reports
September 6, 2019
Total hip/knee arthroplasty - a surgery to restore joint function by replacement or reconstruction - is a routine surgery given to those living with arthropathy (joint disease). Unfortunately, because a potential complication with this surgery is blood loss, individuals living with hemophilia are at higher risk due to their impaired blood clotting.
Although, those planning to receive a total hip or knee replacement/reconstruction surgery with Hemophilia A can now have decreased blood loss and will often require a smaller transfusion if they are treated with Cyklokapron (tranexamic acid) before and after the procedure, according to a recent study. These individuals will also tend to notice a decrease in joint pain/swelling and will have better overall joint function, as well as lower levels of inflammatory markers.
The original research, "Tranexamic acid may benefit patients undergoing total hip/knee arthroplasty because of hemophilia," first appeared in the journal BMC Musculoskeletal Disorders.
To learn more about their findings please feel free to read the original article written by Jose Marques Lopes on Hemophilia News Today's website following the link provided here.
Summit Fuels Discussion on New and Upcoming Hemophilia Treatments
June 21, 2019
Major pharmaceutical and academic leaders in hemophilia therapy development will gather, for the second time, at the Hemophilia Drug Development Summit in Boston from August 20–22 to discuss and advance the next generation of safe and effective therapies for bleeding disorder treatment.
The summit is designed to help large pharmaceutical and biotech companies overcome translational research hurdles and be able to deliver more treatment strategies that can improve patients' quality of life and clinical outcomes.
Organizers anticipate it will bring together over 100 of the world's leading hemophilia experts and treatment manufacturers. Based on last year's attendance numbers, 50% of the attendees are expected to be treatment developers. Equipment / service providers, as well as healthcare providers should make up around 14% a piece, while research institute representatives will make up around 10%. All other members of the bleeding disorders community will round out the remainder of the summits attendees.
Participants will have the opportunity to discuss the development and impact of non-factor products, and contribute to the development of better testing methods and assays to ensure adequate measurement of response to treatment and diagnosis.
Topics will also will focus on strategies for patient advocacy and engagement, and ways to overcome the hurdles in market access to new hemophilia treatment methods.
The summit will have a total of 20 guest speakers each coming from different hemophilia backgrounds and organizations. As well as many well know drug manufacturing companies.
To learn more please feel free to read the original article written by Alice Melão on Hemophilia News Today's website following the link provided here.
Study Finds Extended Half-Life Products Double Costs.
April 24, 2018
According to the Specialty Pharmacy Times, Prime Therapeutics studied the cost effectiveness of 54 hemophilia patients and the results do not look good for extended half-life products. The article about this study concludes with:
"This analysis of real-world claims data found that switching to EHL products often did not reduce the number of factor units members used. The frequent use of more factor units after the switch to an EHL product and much higher per unit cost of EHL products led to substantially higher costs for hemophilia treatment," Kevin Bowen, MD, principal health outcomes researcher at Prime, said in a press release. "Use of EHL products has led to substantial increases in the cost of hemophilia treatment in this commercially insured population that need to be justified clinically." 
While the data does raise some serious questions about the cost-effectiveness of the extended half-life products, it is only fair to point out some flaws with the methodology and conclusions that should be taken into consideration when evaluating this data.
First, the statement "...often did not reduce the number of factor units members used. The frequent use of more factor units after the switch to an EHL..." is in large part cancelled by the statement two paragraphs before showing a 14.9% decrease in unit utilization.
Second, the study group size of only 54 patients (34 with Hemophilia A, 20 with Hemophilia B) there is a lot of room for error. They only looked at individuals who never experienced any bleeding, six months prior to or after swapping. We have to ask, what would the dataset look like if that was not the inclusion criteria? Was there individuals who had more bleeding events and higher usage before swapping, were there patients that bled more on the extended half-life products?
Without the full dataset and without knowing why Prime Therapeutics chose the criteria they did, we cannot evaluate how much credence to give this information. In any event, This is something that patients may want to evaluate for themselves and/or talk to their doctors about.
To learn more please feel free to read the original article written by Davy James on Pharmacy Times website following the link provided here.
Two Hemophilia A Products being Discontinued.
March 6, 2018
Helixate FS and Monoclate P, two of CSL Behring's Hemophilia A (factor VIII) clotting factor products are being discontinued. It has been known for quite some time that Helixate FS was being discontinued as Bayer was no longer manufacturing the factor product for CSL Behring. Now CSL Behring has announced the discontinuation of Monoclate P.
Citing the shift in market by many of those in the hemophilia community to recombinant and long acting products, CSL has decided to halt production of Monoclate P. CSL Behring has a new product on the market that is a recombinant, "long-acting" hemophilia A clotting factor product called AFSTYLA.
The move to discontinue Monoclate P also comes in the wake caused by the approval of Hemlibra for use in inhibitor patients. Hemlibra is a subcutaneous non-clotting factor therapy that has shown to be effective and last longer than long-acting factor therapies for Hemophilia A. It is thought that Genentech, the manufacturer of Hemlibra, will be applying for FDA approval for use of Hemlibra for the main Hemophilia A population very soon.
While it is unclear how much the release of Hemlibra has affected this decision by CSL Behring, CSL has stated in separate statements that they believe there will be enough Helixate FS and Monoclate P to last through December of 2018 simply using the already existing supply. Also unclear is what this will mean for the availability of specific assay ranges. There may be limited availability of the more popular assay sizes as there is little doubt that they will run out long before the supply of these products do as a whole.
Sub-Q Hemophilia Treatments
- A Reality Check
October 3, 2017
By Chad Blair
All social media formats have been ablaze with talk about the two new hemophilia treatments being worked on and promising to revolutionize the way hemophilia is treated. For once, the buzz is not the result of marketing by the manufacturers of the products themselves. Unfortunately many of the posts we have seen are misleading to say the least.
Fear mongering over thrombotic events and statements regarding the safety of the new subcutaneous treatments developed by Genentech/Roche and Alnylam are a frequent on Facebook and even appear on other forms of social media. While the questioning of safety and efficacy of any product is prudent, it is important to recognize fact from fiction and knowledge from unknowns.
Some competing manufacturers are using the hemophilia community's lack of knowledge and understanding of how the subcutaneous treatments function to cause fear and make hemophiliacs wary of what might end up stealing their market shares. To put this bluntly, they are using fear to keep hemophiliacs on their own products. That does not mean that the claims are completely untrue though either.
Thrombotic and other adverse events have occurred however, with a little reasearh you can get an understanding of how and why these events occur. After examining all the evidence and researching the therapies it became evident that in this situation we have a failure of understanding. In short;
"Genentech's Emicuzumab ... could revolutionize the life of most Hemophilia A patients.  The fear of losing market shares appears to be one of the largest motives behind the negative publicity and propagated byy competitors.

Fitusiran has had a major set back and a lot of thought will have to be put into how and if to proceed.  Alnylam has been up front as a company and quickly halted the trials until they can determine the exact causes and come up with the best plan for moving forward."
For the full article and in depth look at Genentech's Emicuczumab and Alnylam's Fitusiran click here.
The Direct, Indirect, Medical, and Quality of Life Costs of Hemophilia
April 19, 2016
In this report posted by the American Journal of Managed Care they talk about the costs associated with hemophilia both monetary costs, quality of life costs, time missed from work and/or school for both the individual with hemophilia and their family member, barriers to care, and thoughts on optimiziing factor usage for the best outcomes.
For the full report simply click on the image below for the pdf or read it dirctly from the American Journal of Managed Care.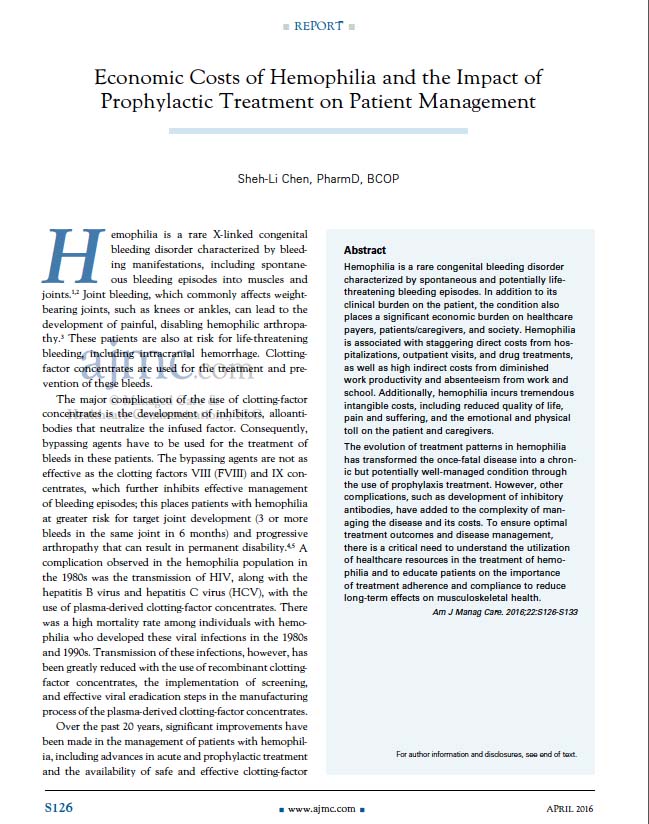 Take the Memorial Survey!
July 7th, 2016
The Hemophilia Federation of America (often referred to as the HFA) has released a survey to ascertain the hemophilia community's need for and interest level in establishing a memorial for the hemophilia community. This survey will help determine if the HFA should partner with COTT (The Committee of Ten Thousand) in the development of a national bleeding disorders memorial for those from the community who lost their lives.
This survey seeks to understand exactly who should be memorialized, how they should be memorialized and where the funding for such a memorial should come from. The AIDS Memorial Grove in San Francisco intends to also create a memorial within the existing grove to memorialize the hemophilia community. This survey also is aimed at understanding if that is truly sufficient for the needs and desires of the community itself or if more is needed.
To provide feedback to the HFA and cast your vote regarding a memorial, follow this link or go to the HFA's website.
HFA Symposium 2016
November 27, 2016
The 2016 Hemophilia Federation of America's (HFA's) Annual Symposium is slated to take place from March 31st to April 2nd in Las Vegas, Nevada. Registration is now open and Scholarships for travel and hotel are available.
If you are interested in attending and would need a scholarship you must register ($45 per individual or $90 per family) and select the box that you would like to apply for a scholarship when registering. If the HFA cannot assist with a scholarship and you would be unable to attend without the assistance the registration fee can be refunded as well.
Thursday is a day of inhibitor-focused meetings for individuals and families dealing with an inhibitor. There are different tracks running through the meeting as well such as The Blood Brotherhood Track, the Blood Sisterhood Track, Dads in Action and so on. In each track you'll find a series of sessions and programming geared specifically for that group of people. For more information, or to register go to the HFA's website and select the Syposium from their home page, or click here.
Trust (Editorial)
May 26, 2015
By Chad Blair
Over the years the bleeding disorders community has seen several occasions where our trust in manufacturers, pharmacies, doctors, and even our community organizations have been shaken and sometimes even broken all together. There are always people on the extremes, just like there are on any topic of debate. Some people want you to think that everyone is out to take advantage of you and others want you to blindly trust everything you're told.

The way I view the situation is this; everyone has a need and everyone wants the best deal. If I need a car, I go to a car dealership. When I need factor. I go to a specialty pharmacy (others use 340B Hemophilia Treatment Centers). The car dealership gets the cars from car manufacturers, pharmacies get factor from manufacturers and/or distributors depending on the product. The dealership is less concerned over which car you buy, as long as you buy it off their lot. The Manufacturer doesn't care what dealer you use as long as you buy a car that they made.

As a person with Hemophilia, I need clotting factor to prevent and control bleeds. A pharmacy that gives all of the factor away will not be able to stay in business and thus not be able to supply my factor. If a manufacturer gave all of the factor that they make away, again it would go out of business and not be able to make any more factor. The only way that they can do this is charge for the factor and profit from it.

This I understand and accept. This does not mean that I would go into a car dealership and let the salesman make my choice for me. I'm going to do my homework, compare cars through independent research articles and talk to people I know about the car before I buy it. Knowing that everyone is out to make a profit, I know better than just take the car salesman's word when he tells me that this brand new car hasn't had any recalls and has been rated the safest.

Right after release, a new car may not have recalls because they haven't found all of the bugs yet. One thing is certain, I'm going to spend more time researching the factor I use that the car I buy. A car might last me 10 – 15 years if I'm lucky. The joint damage, mobility issues and my overall health will last the rest of my life.

For me, it's not about distrust; it's not about fear. It is all about being smart, thinking about my future and making the best decision for me. When the car manufacturers changed their recommendation of changing your oil every 3000 miles to every 5000 miles, I didn't change my routine. I still change my oil every 3000 miles. My priority is engine longevity, not less maintenance.
"The Yellow Boat"
January 20, 2015
During late winter and early spring every year an opportunity arises that many people are completely unaware of. Many theatre groups across the United States and even some in other countries produce a play called "The Yellow Boat".

Written by David Saar, "The Yellow Boat," the true story of his son, a hemophiliac who contracted AIDS through a blood transfusion and died due to complications at the age of eight. In the play, the boy's vivid imagination and artistic talent take audience members on an emotional journey showing his life through his eyes using his vibrant artworks that literally "come to life" to show "the strength and courage of all children."

Theatre groups from Tempe, Arizona to Seattle, Washington, to Atlanta, Georgia to St. Louis, Missouri to Austin, Texas to Louisville, Kentucky and Venice, Florida have annual performances of "The Yellow Boat". This play is also a favorite amongst many high school groups and community youth groups nationwide.

Check with your local theatres and drama clubs to see if there are any showings near you. If there aren't, maybe try suggesting it as a future possibility.

You can watch various productions right from your computer on YouTube, or read the script. None of these are the same as seeing the play first hand though. Most versions you can see on-line are largely abbreviated shows as the full show is approximately a 75-minute production.
Part of the RODIN Study Results Verified!
In January, 2013 U & I Pharmacy released an update here, on our "The Latest" page that summarized and discussed part of a study that looked at different products and inhibitor development. To view that release, click here.
Now, on September 24, 2014, France released the results of a study that was designed to test the accuracy of the RODIN Study. This study was conducted by 10 French universities and treatment centers as well as The French Institute for Public Health Surveillance.
This study looked back at the treatment and inhibitor rates of 353 patients. After reviewing the patient lists, data from 50 of those patients was removed from the study because they were also included in the research completed by the RODIN study. It was decided that the study would be best served if it looked at completely independent data and only used information from the 303 other patients that did not overlap with the RODIN study.
One major difference between these two studies is that this was just comparing the second generation, full-length molecule product (Kogenate FS/Helixate FS) with the most widely used recombinant product (Advate). Since RODIN found that all other recombinant and plasma derived products had no significant difference in their inhibitor rates, this study simply chose Advate as a standard, probably due to the easily available data. Kogenate FS and Helixate FS which are the same molecule and both manufactured by Bayer while being marketed seperately, were again found to have a clinically significant higher rate of inhibitors amongst previously untreated patients.
The Hemophilia Federation of America did a great write-up of this study and has provided links to the abstract for the new study as well as statements released by the World Federation of Hemophilia and Bayer themselves. To read the HFA's write up, simply click here.
To see the original, RODIN study, click here.
New Blue Cross Blue Shield of Louisiana Policy Hurts People with Chronic Medical Conditions.
May 15, 2014 - An article The Times-Picayune (out of New Orleans) highlights the effects of a new CMS ruling that appears to be a misinterpretation of the ruling's intent. Bleeding Disorders are highlighted here as Kimberly Haugstad (the Executive Director of the Hemophilia Federation of America) and James Romano (of Patient Services Incorporated) speak candidly about the issue.
It is important to note, that the CMS ruling being discussed is a ruling that has taken place outside of the Affordable Care Act/Obamacare but effects the way the law impacts the people utilizing the law.
For more information and see the article for yourself, please refer to the original article in the Times-Picayune, New Orleans Edition.
Urgent! Action Needed by 5pm Today!
May 13, 2014 - According to the Hemophilia Federation of America (the HFA),
CMS has released an interim final rule, Patient Protection and Affordable Care Act; Third Party Payment of Qualified Health Plan Premiums (CMS—9943–IFC). This proposed rule defines criteria for health insurance providers in the federal marketplace to accept third party premium assistance from specific entities...

The interim rule also states, "Our new standard does not prevent QHPs and SADPs from having contractual prohibitions on accepting payments of premium and cost sharing from third party payers other those specified in this interim final regulations." This statement is being interpreted by BlueCross BlueShield of Louisiana as allowing them to implement policies that prohibit acceptance of third party premium payments from any third parties.
Patient Services Incorporated (PSI) is one such non-profit. PSI assists many people in the bleeding disorders community with their insurance and cobra premiums as well as copays and deductibles. As many people are aware, a decent insurance plan can be very costly, especially when you add in the copay and deductible amounts a patient can be responsible for.
If this policy is allowed to stand, many people with hemophilia stand to lose their insurance coverage and thus their access to care nationwide. Until 5pm today, the Centers for Medicare and Medicaid Services is accepting comments in an attempt to make the appropriate decision. For this reason the HFA has constructed a letter template that you can access here and let CMS know how you feel about this situation.
New HIV Treatment May be on the Horizon
The National Institutes of Health released an update on Wednesday, October 30th about what may be the biggest breakthrough in treating the Human Immunodeficiency Virus (HIV) in the entire history of the disease. Two separate teams of scientists (one here in the US, and one in Israel), both injected monkeys that had been infected with the monkey version of HIV with monoclonal antibodies to the virus.
In the vast majority of cases this was not only able to reduce the viral load to undetectable levels, but the effects lasted for prolonged durations of time. While this has not been tested in humans to date, the researchers are aiming to begin Phase I Trials in the near future.
To read the release made by the National Institutes of Health for yourself, click here.
Questions About Inhibitor Development
On March 4th, Carolyn A. Wilson, Ph.D., (Associate Director for Research at FDA's Center for Biologics Evaluation and Research) made an informative blog post about the results of the regulatory science process at the FDA. This Blog post can be viewed directly at the FDAVoice website. The article talks about various lines of research that have been opened up thanks to the FDA's regulatory process.
One of the points Dr. Wilson brings up is a possible link between the genes for hemophilia and the development of inhibitors.
U&I Pharmacy has posed a question to several research scientists in the field and never received a single response. We have now emailed the same question to the FDA directly (which you can read below). If any person out there can answer this question or even theoretically answer this question, please let us know.
If and when we get a response from the FDA (or anybody else for that matter) we will provide an update here as well. The letter submitted to the FDA on March 20, 2014 is as follows:
On March 4, 2014, Dr. Wilson wrote a blog piece entitled "Supporting Innovative Research Through Regulatory Science".

In this article, Dr. Wilson speaks about individuals with antibodies to clotting Factor VIII and how "the gene for Factor VIII made by these individuals …appear to be responsible for this immune system attack."

As an individual with hemophilia and a history of inhibitors I am interested in how the genetics for the hemophilia itself would control the immune response in the way of antibodies created that attacks the factor VIII protein. I know of several individuals who have Acquired Hemophilia and inhibitors. In acquired hemophilia, the individual does not have a mutation in the genes for Factor VIII production, instead they developed antibodies to the Factor VIII protein and the inhibitor antibodies are actually the cause of the hemophilia.

As another case in point, there are numerous sets of siblings in the hemophilia community whom while both receiving the same (and only) X chromosome from their mother with the gene for hemophilia. With the exception of a random mutation at the time of birth, it would stand to reason that the genes for hemophilia would be the same, however in many cases, one brother ends up developing inhibitors while the other does not.

In my mind, these instances would negate the appearance that the gene for inhibitors would be due to the mutation in the genes for hemophilia itself. I am hoping that Dr. Wilson can explain how a person without any mutation for hemophilia can develop inhibitors if in fact the inhibitor genes are the same as the genes for hemophilia itself, or how two individuals with identical genes for hemophilia can differ in inhibitor development.

Thanks in advance.
Can the Name of Factor be a Safety Concern?
On February 4th the Alliance for Patient Access submitted a letter to the Federal Trade Commission requesting that the FTC recommend distinguishable names for all biologic and biosimilar products to the FDA. The Hemophilia Federation of America has signed onto this letter along with several other groups representing other medical conditions. As biosimilars become a reality in the United States, the FDA will need to establish a naming policy for them.
The issue arises as a safety concern when biologics may be forced to have the same name as every other biologic in the same therapeutic group. As an example, all Factor VIII "biosimilars" could be required to use a single name such as Octocog Alfa (which is the European name for Hemophilia A products). The reasoning for using this type of nomenclature for biologics is to create an even playing field among the factor products and remove the competitive nature of the market.
The concerns in using this methodology for naming biologics in this manner are bountiful. First and foremost are the efficacy considerations. It is widely accepted that factor products can work differently on different individuals. When adverse events occur, having distinguishable names for the products will expedite the determination of the exact cause and likeliness that it will reoccur. Distinguishable names will also assist in quickly responding to a recall of a biologic product. With indistinguishable names recalls can lead to confusion and slow the recall process while at the same time cause panic amongst patients who could be uncertain weather or not they should continue using their medications.
The future of biosimilars is very promising as long as we stay focused on ensuring the safety of those forced to use them.
For the press release and copy of the letter, click here and see it directly from the Alliance for Patient Access' website.
Appreciating What We Have.
Today, Friday, August 9, 2013, Eastday.com released an English version of a story that can put the standards here in the United States into perspective.
Since you're reading this it's pretty well a given that you can, to some degree, imagine what it would be like to raise a child with a bleeding disorder. Things like trips to the doctor's office, expensive medications, constant vigilance and so on.
Why does a family go through all of this? Most likely the reason is to provide the child with the best opportunities and greatest chance to lead a close to normal life once they are old enough to take care of themself.
Now imagine that even if you traded the only life you knew, just to get some kind of treatment for your child with hemophilia, there was still little to no hope of a normal life. Not because of bleeding or joint issues. Not because of any medical problems at all. Simply because the fact that your child has a bleeding disorder, he or she would not be accepted into school and would therefore have an imposed educational barrier to deal with on top of the bleeding disorder.
Now realize that this is the reality for at least one family in China. To see this story for yourself, read "Boy with hemophilia looking for home tutors".
Affordable Care Act for People With Hemophilia
The HFA Teams With Families USA
The Hemophilia Federation of America, working with Families USA, provided a very informational webinar for people with bleeding disorders on June 6, 2013. Presented twice at lunchtime, this presentation provided a very intimate look at how the ACA impacts our community and highlights specific details that are relevant to us.
This presentation is available from the HFA and can be viewed below or on the HFA YouTube site.

To check the schedule of future webinars offered by the HFA, visit their site by clicking here. They also are a great resource for other information as well as provide countless programs designed solely for the bleeding disorders community.
The HCV Coalition For a Cure Launches a Petition at Whitehouse.gov
As of the morning of February 19, The group "HCV Coalition for the Cure" Has announced the start of a petition taking place on whitehouse.gov. The hopes are that the government will examine the actions of pharmaceutical giant Gilead and possibly force them to work with Bristol-Myers Squibb. The website states;
"In November 2012, Bristol-Myers Squibb (BMS) announced it achieved a 100 percent cure rate for HCV. In phase two trials, Bristol Myers-Squibb, using its drug Daclatasvir in combination with sofosbuvir from Gilead Sciences, achieved a major milestone: the 100 percent cure rate for HCV: type 1 with similar results with the same drugs for HCV: type 2 and HCV: type 3. The two companies each own a drug that in combination has cured hepatitis patients within 12 weeks. The results of the all-oral combination are a huge advance, not only due to the remarkable results, but because they had mild side effects (mild to moderate fatigue, headache, nausea) that were well tolerated.

...The two big pharmaceutical companies have yet to take the final step together to get this cure to market. Each has unsuccessfully tried to replicate the other's matching drug rather than working together on what is sure to work best. Bristol Myers-Squibb is eager to work with Gilead, but Gilead is not interested. Dr. Douglas J. Manion, a senior vice president for Bristol-Myers, said his company was "keen" on working with Gilead but "thus far, they have been unwilling to engage in that collaboration."

President Obama could use his power to provide incentives to the drug companies which would encourage them to end this standoff and move forward to save lives. If the two companies do not collaborate, a new successful cocktail of drugs that works could take years, time many patients do not have."
To read the full story, click here.
To skip the fullstory and go straight to sgning the petition, click here.
Study Finds Inhibitor Development is Completely Unrelated to Product Type!
A paper published in The New England Journal of Medicine on January 16, 2013, discusses the results of a recent study involving 574 previously untreated patients. The study compared 88 patients that were given only plasma derived products (similar to Alphanate, Wilate, & Koate DVI), 59 patients that were given a first generation recombinant product (similar to Recombinate), 183 patients that were given a full-length 2nd generation recombinant product (similar to Kogenate-FS), 77 patients given a B-domain deleted 2nd generation recombinant product (similar to Refacto), and 157 patients given third generation recombinant products (similar to Advate and Xyntha).
The study found no correlation between inhibitor development and the type of product used, with the exception of a "moderately higher" inhibitor rate in patients that received the full-length 2nd generation recombinant product. This study showed an average of 32.4% of patients developed an inhibitor, regardless of the type of product used. To take one step further, the study examined the rate of inhibitor occurrence when patients swapped products and found no evidence that changing between products (either from plasma-derived to recombinant or vice-versa) had any effect on inhibitor development.
This study may finally put to bed some of the myths that have been surrounding inhibitors and inhibitor development for some time. Of course, how readily this study is accepted and how this new information is used remain to be seen. To check this article out for yourself, visit the New England Journal of Medicine. This link will take you directly to the abstract for the article.
Interferon Free Hepatitis C Treatment!
On January 3, The New England Journal of Medicine released an article about Sofosbuvir, a drug for treating chronic Hepatitis C infection that is currently in phase II studies. This treatment is designed to work with or without the infamous interferon that makes completion and compliance so hard on many patients.
Initial data looks terrific, as all studied individuals with Genotypes 2 & 3 shows sustained viral responses (still tested negative for HCV RNA for 6 months after treatment was ended) and even 84% of the type 1 HCV cases that had not been treated prior showed a sustained viral response.
The caveats are that only 1 of 10 patients who had previously undergone treatment for type 1 HCV and failed to clear the virus showed a sustained response following treatment with Sofosbuvir. Coupled with the fact that the study does not look at the treatment of individuals co-infected with HIV means that there are plenty of areas to explore.
For the full story, refer to the article in the New England Journal of Medicine, or look directly at the clinical trial info for yourself, directly from clinicaltrials.gov.
The Hemophilia Federation of America's
Teen Connection Video is out!

New Study Shows People With Hemophilia Have a Greater Risk of Cardiovascular Disease
According to a study published on November 8th, individuals with hemophilia have a higher risk for cardiovascular disease than the normal population. The study found hypertension to be more common in individuals with hemophilia. The study involved people with hemophilia age 30 and over from the United Kingdom and the Netherlands, finding that 49% of the hemophiliacs had hypertension.
To read the abstract for this study, visit the National Institutes of Health's "PubMed" by clicking here.
Biogen Idec Completes Study on Longer Lasting Factor IX Product.
On Wednesday, September 26th, Biogen Idec announced the completion of a study on their longer-lasting factor IX product. In all 115 of the original 123 individuals enrolled, completed the study. The study showed that the product was very effective at controlling bleeding ad furthermore could reduce the infusions needed to treat Hemophilia B prophylactically to as few as one infusion every other week.
They are now going to be starting a trial on children under the age of 12 (as required by laws in Europe) but expect to apply for approval here in the US in early 2013. Check out the original story here.
Hero From Texas Visits Central New York
August 2nd - A true hero named Barry Haarde rode through Liverpool, Oneida, Verona, and Vernon New York on his way East. Barry was approximately 3300 miles into his journey as the first man with hemophilia to bicycle from coast to coast. If that alone isn't enough to make him a hero in your eyes, would the facts that Barry was infected with HIV and Hepatitis C due to contaminated blood products, or the fact that he is riding to promote healthy living, raise awareness of hemophilia, and defeat or at least strike a blow against the stigma associated with AIDS help? Maybe the fact that he is raising money along the way for Save One Life can sway your opinion. That's right, the money raised by Barry is going to help people with hemophilia in developing countries.
Some of the staff from U&I Pharmacy were lucky enough to get to meet with Barry in Verona. For this story, please click here.
Barry's story also made the local papers on August 3rd, including an interview with Barry and even a video in their online version. To read the story on the Oneida Dispatch and watch the video, click here.
The US Supreme Court Rules that the Affordable Care Act IS Constitutional!
On Thursday, June 26th The US Supreme Court ruled 5-4 in favor of upholding the Patient Protection and Affordable Care Act. The reasoning for the decision is said to be due to the view that the financial requirements in question could be regarded as a tax and thusly should be viewed as constitutional.
This means is the end to pre-existing conditions, lifetime caps, kids staying on their parents' insurance until the age of 26 and the creation of open enrollment insurance exchanges. "The Affordable Care Act is not perfect, but it moves us in the right direction and is the only meaningful reform that's passed in decades".
For more information on this story, please visit the following links:
HFA - Press Release
NHF - Press Release
New York Times Article
PSI's Items Program Transitioned Over to the Hemophilia Federation of America!
According to an April 3rd press release, PSI is no longer be in the business of providing items such as Cryo Cuffs, imobilizers, helmets, and so on. The long running "Patient Assistance Items Program" has been permanently moved to a new home as a program of the HFA.
Future requests for items should be directed to the Hemophilia Federation of America at 1-800-230-9797. For more information or to read the press release for yourself, simply follow this link to the ground breaking news.
HFA Symposium 2012
March 30th & 31st were the dates for the Hemophilia Federation of America's 2012 Annual Symposium. The session topics ranged from nutrition to orthopedic surgery in individuals with bleeding disorders and even the Centers for Disease Control's new look for the Universal Data Collection Project.
The Symposium was enlightening to say the least as different "tracks" were offered for different individuals and interests. Some of the key topics that seemed to be at the forefront of many conversations was the battle with Hepatitis C that many of the older community members are in and ensuring choice and options always remain (in product, service and even way of life). If you would like more information on the HFA Symposium, please check out their site by clicking here.
New Factor VII Product on the Horizon?
On March 30th, 2012 CSL Behring announced a phase I study of their new Factor VII molecule. The molecule is bound to albumin in an attempt to extend the Factor VII half life. The study will be looking at the possibility of making an effective treatment for individuals with inhibiters to either Factor VIII or Factor IX.
This same product was previously given orphan drug status by both the FDA and the European Commission. This may lead to a large advancement in treatment for inhibiter patients that do not succeed with immune tolerance therapy. For more information on this story, you can check out the story in its entirety here.
It's Hemophilia Awareness Month!
Starting March 1st, as part of Hemophilia Awareness Month, several things are supposed to be taking place. The month of March should act as a type of motivation to help educate those who know very little about hemophilia, correct misinformation wherever it is found, find ways of encouraging research and advancement in therapies, and above all else try to gain more knowledge on the subject ourselves. There is always more to learn.
If there is information that we may have that you want, or if you can think of an educational opportunity you have and may want our help with, just email us here.
What does NASA have to do with Hemophilia?
As published by Gizmodo on February 8, 2012, NASA has something in the works that may benefit the bleeding disorders community. NASA has been looking into ways of providing healthcare to their astronauts while they are in space and away from the doctors and medicines the rest of us use. According to Gizmodo, Dr. David Loftus has invented a biocapsule that may be the solution to NASA's needs and a large step forward for people with hemophilia and many other chronic conditions.
The biocapsules are packed with cells that can release needed medications or proteins. Once specific events trigger the cells to begin production, the medication or protein would then cross through the porous biocapsule through diffusion where it can be absorbed by the body.
While it is probably not the most efficient method for factor replacement, it may be a new prospect for use with gene therapy. To read the full Gizmodo article, click here.
New Human Study With
Fc Fusion & Factor VIII!
A study published on January 5th, 2012 in The Journal of the American Society of Hematology reports that 16 Individuals with hemophilia participated is a study using the new Fc Fusion Technology.
The 16 people received varying doses of the recombinant clotting factor Advate and monitored in order to determine the rate at which the factor was depleted. Once the Advate was out of their systems, the same 16 individuals were then given the same doses of the rFVIIIFc (the recombinant Fc Fusion protein) as they had received of Advate.
While the peak factor levels reached for the rFVIIIFc were similar to those reached by the equivalent dose of Advate, the rFVIIIFc lasted significantly longer in the person's system than Advate. For the specifics on this study check it out here.
Tylenol® Dosing Information Changed
November 15, 2011: McNeil Consumer Healthcare (the makers of Tylenol®) releases new dosing instructions for Extra Strength Tylenol. Due to concerns of overdosing causing Liver damage the recommended dosing has been changed to limit the chances of liver damage. Since acetaminophen (the generic name for Tylenol) is used in many products it is easy to overdose without realizing it. To see the new recommended dosing, click here.
Non-sterile Alcohol Wipes
October 26, 2011: If you are a U&I customer, don't worry. we have never dispensed any PDI alcohol wipes. A recall was placed on alcohol wipes made by Pacific Disposables International (PDI) due to infections caused by non-sterile alcohol preparation pads. If you received alcohol wipes from other sources, please check to make sure Pacific Disposables International did not manufacture them. Look at the fine print as they are sold under various brand names.
To see the MASAC Advisory, click here.
Factor IX Variants Can Bypass
Factor VIII & Treat Hemophilia A.
October 14, 2011: In an article released in the Journal of the American Society of Hematology, FIX variants can be used to bypass the lack of FVIII found in Hemophilia A mice. The variants were expressed using a non-viral gene transfer and resulted in normal clotting. This new avenue might open doors for people with inhibitors to factor VIII or even all Hemophilia A patients at some in the near future.
Read this article in the Journal of the American Society of Hematology.
Straight from the FDA!!!
On September 29, 2011, the Food and Drug Administration approved a135 mcg/0.5ml and 180 mcg/0.5 ml disposable autoinjector (DAI) to administer Pegasys (peginterferon alfa-2a), an antiviral indicated for treatment of Chronic Hepatitis C (CHC) by subcutaneous injection.

Pegasys continues to be available in a vial or prefilled syringe, and now also in a 135 mcg/0.5ml and 180 mcg/0.5 ml PEGASYS disposable autoinjector.

The updated label and Medication Guide can be found on the FDA web site by clicking here.
Have a suggestion for an update or news flash?
All suggestions welcome, please feel free to email them to us here.